Enjoy the warm glow of the fireplace and twinkle lights while dining on a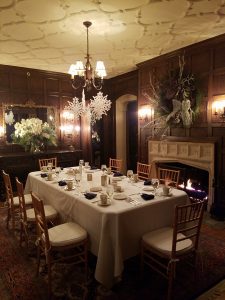 gourmet four-course dinner in either the living or dining room of the Manor House.We are sure you will want to make this a holiday tradition for years to come.
Price of event includes guided tour of the Manor as well as shopping in our holiday market. Tours begin at 5:30 p.m., event begins at 6:30 p.m.
Consider purchasing a gift certificate to the Manor House for any of our upcoming events.