KALAMAZOO, MI – Five years after its creation, Discover Kalamazoo's popular "Give A Craft® Beer Trail" is digital.
Launched in conjunction with the 10th annual Kalamazoo Beer Week, which as held Jan. 11-18, the digital passport allows beer enthusiasts to check-in on their mobile device at Kalamazoo County breweries to earn the "Give A Craft® Beer Trail" T-shirt, as well as beer and food discounts. Users must make 8 different check-ins and complete a short survey to earn the free T-shirt.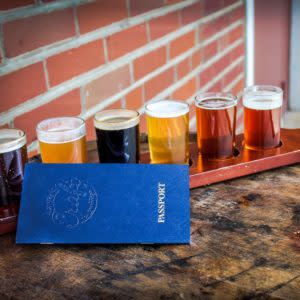 The new platform – available at drinkkalamazoo.beer or text 269-210-8150 – is a free program without a timeframe to complete it. The digital passport will be continuously updated with new discounts.
Physical copies of the passports, which also requires at least eight stamps to earn the T-shirt, will still be available at the Discover Kalamazoo office, 240 W. Michigan Ave., and participating breweries.
Once guests create their profile through drinkkalamazoo.beer or sign up through text at 269-210-8150, they can select the appropriate brewery, click the "check-in" button and enter the unique four-digit code displayed at the brewery.
Each brewery creates its own specials, including discounted pints and appetizers, among other options. Bell's Brewery is also offering an extra credit prize for those taking a free tour at the Comstock facility.
How it works:
Go to drinkkalamazoo.beer or text 269-210-8150
Create a profile
Visit Kalamazoo County breweries
Check-in and use brewery-provided 4-digit code
Reach 8 check-ins and complete survey for their prize
Customers can choose to pick-up their T-shirt or have it shipped directly to them by Discover Kalamazoo.
For more information, go to drinkkalamazoo.beer or like the Facebook page at www.facebook.com/GiveACraftKalamazoo.