KALAMAZOO, MI — There's a new way to enjoy Kalamazoo Craft Beverage Week where revelers can order to-go drinks and consume while walking outside in "social districts."
Launched in the summer of 2020 by Kalamazoo Downtown Partnerships, participating bars, restaurants, breweries, wineries and distilleries can provide to-go drinks in specially-marked cups as part of the Central Commons Refreshments Area.
People can then drink them as they window shop or conduct their own bar crawl of downtown Kalamazoo.
The social district was expanded at the end of 2020 to include more participants and a wider geographic footprint.
You can read more about the program here.
Central Commons Participants
Blue Dolphin/Papa Pete's Tavern
Central City Tap House
Final Gravity Brewing
Fuze – kitchen & bar
Green Top Tavern
Harvey's on the Mall
LFG
Old Burdick's Bar and Grill
Olde Peninsula
Principle
Taco Bob's
Tempo Vino Winery of Kalamazoo
The Stamped Robin
The Kalamazoo State Theatre
Water Street Coffee Joint – Downtown Location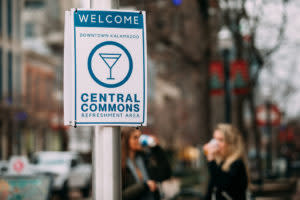 Kalamazoo Downtown Partnership's Central
Commons allows people to consume to-go
alcoholic beverages in specially-marked cups while
 walking through designated areas of the city.
Courtesy of Kalamazoo Downtown Partnerships