PORTAGE AND TEXAS TOWNSHIP
From laid back breweries and a lake life mantra to carefully curated shops and fine dining, the Portage and Texas Township area of Kalamazoo County is an outdoor enthusiasts haven and home to the Air Zoo Aerospace & Science Center, one of the area's most popular and treasured attractions!
An experience unlike any other; custom, classic, and new.
Portage Itineraries
1
The Air Zoo is a highly charged, multi-sensory aviation and science museum that goes beyond anything you've ever seen. It's like no place else on Earth! With over 50 historic and rare aircraft & spacecraft, amusement park-style rides, interactive exhibits, flight simulators, a 4D theater, and much, much, more, there's truly something for everyone!
Monelli's is the perfect place to take the family, meet friends or even watch the game. They serve beer, wine and cocktails, as well as handcrafted pizza and stromboli, meat and seafood, and much more. You'll also find an atmosphere perfect during big games, with wall to wall tv's, as well as a quieter space for family gatherings.
Roll Up Ice Cream takes your favorite dessert to the next level! Their signature recipes and flavors are delicious and fresh! They even have created non dairy and vegetarian options, with some recipes that can be adapted to be Vegan friendly.
2
Celery Flats is really a "park within a park." A key element of the Portage Creek Bicentennial Park, Celery Flats has two distinct settings. On the north side of Garden Lane, the Celery Flats Pavilion offers a nice open-air seating area, picnic tables, restrooms, and an air station. The Celery Flats Historical Area, with several relocated and restored buildings, is located south of Garden Lane.
Cove Lakeside Bistro is the newest addition to downtown Portage's culinary scene. Cove boasts a large outdoor patio, seasonal menu and views of beautiful West Lake! Photo by @kalamazoofoodie
From the fisherman to the beach bum, Ramona Park has a little bit of everything! Located in Portage, with access to Long Lake, it is truly a family destination site. Ramona Park has a fully-staffed and lifeguarded beach and is home to a creative, accessible playground with a colorful soft surface. In the warmer months they regularly host family movie nights!
3
Airway Fun Center offers mini golf, laser tag, and – of course – bowling. With a modern, well-kept bowling center and hundreds of challenging games and attractions!
Presidential Brewing Co is the newest brewery to open in Kalamazoo! Their beers have punny names like Oatbama Stout and Sherbert Hoover. Their food menu consists of items like pickle pizza and an entire section dedicated to tots! (um, yes pease!) They also have a special happy hour on Fridays from 7am-11:30am for third shifters
Bishop's Bog Preserve is another natural treasure of the City of Portage with walking and nature trails as the main amenity. This 152-acre preserve is the largest "relict" bog in Southern Michigan. Ancient and untouched, it is home to several rare plant species, including the Orange Fringed Orchid and Stemless Pink Ladyslipper. The bog is registered with the Nature Conservancy.
The Air Zoo Aerospace & Science Museum is a must-stop for kids of all ages! Between simulators, rides, games, and bi-plane flights – the young and young at heart will have a great time at the Air Zoo in Kalamazoo, Michigan.
Texas Township Itineraries
1

Hike or Bike at Al Sabo
Al Sabo Land Preserve is open from sunrise to sunset. Here you will find both coniferous tracts of woodlands, and mature hardwood forests. The wetlands here serve as the headwaters of the West Fork of Portage Creek. Many of the trails are clearly marked and easy to follow, but there are also many unmarked and unmapped trails.

Dinner at BOLD
BOLD prides themselves on offering simple food with big flavor! While diverse in the culinary arts and passionate about great food and wine, head Chef Havey has a soft spot for Michigan State sports, Southwest/Mexican cuisine and Corona Light, no lime!

Dessert at Lafayette Creamery
Lafayette Creamery offers up super-premium, old school ice cream made in-house and served up from their dipping counter into cups and cones. Sundaes, milkshakes, malts and floats are all available.
2

Texas Township Farmers Market
The Texas Township Farmers' Market - Fresh on Q! is the perfect spot to get fresh, locally-grown and prepared fruits, veggies, meats, baked goods, flowers and more!

Rykse's for Brunch
Rykse & Co Market and Eatery is a spin off of Rykse's Restaurant with a fast casual concept. They offer breakfast, lunch and dinner, along with a retail market area - selling everything from their famous and award-winning baked goods to their popular Rykse on the Run meals.

Texas Corner's Brewing Co. for Drinks
Just outside of the hustle and bustle of Kalamazoo is the Texas Corners Brewing Co. Housed in a repurposed chapel, folks still gather here to savor handmade craft beers and ciders.
3

Drinks at Zeb's Trading Co
Zeb's is a local favorite offering 15 drafts, daily food & drink specials, gluten free, and vegetarian options!

Shopping at Lee & Birch and Pink Lemonade
Lee & Birch wants every woman who shops with them to leave feeling better and more confident than they were when they walked in! They offer high quality clothing and accessories in both classics that will be a staple in your closet and modern styles that hit the most up-to-date trends.

Small Plates at Gusto
Gusto is a simple, shareable and small plate restaurant that specializes in classic Italian recipes with a bold twist!
With beautiful scenery, an abundance of arts, culture, activities and great food, Kalamazoo offers countless ideas for the perfect date night! Read on to see our suggestions for activities in Portage, Texas Township and more.
There's nothing typical about Kalamazoo. We're multicultural and urban, yet down-to-earth and homegrown. A city rich with creative energy, where our sense of adventure…
There's nothing typical about Kalamazoo. We're multicultural and urban, yet down to earth and homegrown. A city rich with creative energy, where our sense of adventure…
From laid-back breweries and a lake life mantra to carefully curated shops and fine dining, the Oshtemo and Texas Township area of Kalamazoo County is an outdoor enthusiasts…
Much of Kalamazoo's small town charm can be found in its hidden gems, from the historic landmarks and robust antique and vintage scene to the four-season outdoor recreation…
Much of Kalamazoo's small-town charm can be found in its hidden gems, from the historic landmarks and robust antique and vintage scene to the four-season outdoor recreation…
On the outskirts of both Climax and Scotts, you'll find two of Kalamazoo's most unique and sprawling county parks for outdoor adventure, quintessential main streets…
From the historic restoration of an entire village and the preservation of a landmark of the Underground Railroad, to honest to goodness local grub and good company, the quaint…
Discover the Corners of Kalamazoo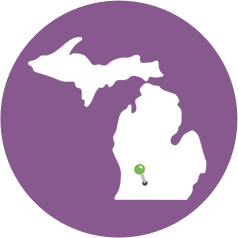 Kalamazoo County Map
North
Central North
Northeast
Downtown
East
West
Central South
South