Outdoor Weekend Getaway
Kalamazoo's diverse natural landscapes offer endless opportunities for adventure. From rejuvenating retreats and natural wonders to thrilling adventures, this is the place to plan your outdoor weekend getaway. Kalamazoo has something for every season: fishing, swimming, skiing, hiking and so much more. Whether you want to relax and dip your toes into Lake Michigan or take a thrilling bike ride along one of our trails, there's something for all outdoor lovers alike. 
Blooming with lively urban parks, re-imagined recreational landscapes, spirited pop-up gardens and scenic running and biking trails, Kalamazoo is a playground for adventure seekers and nature lovers in all four seasons. Below is how we recommend spending the best outdoor vacation here in Kalamazoo, Michigan! 
Year-Round Outdoor Activities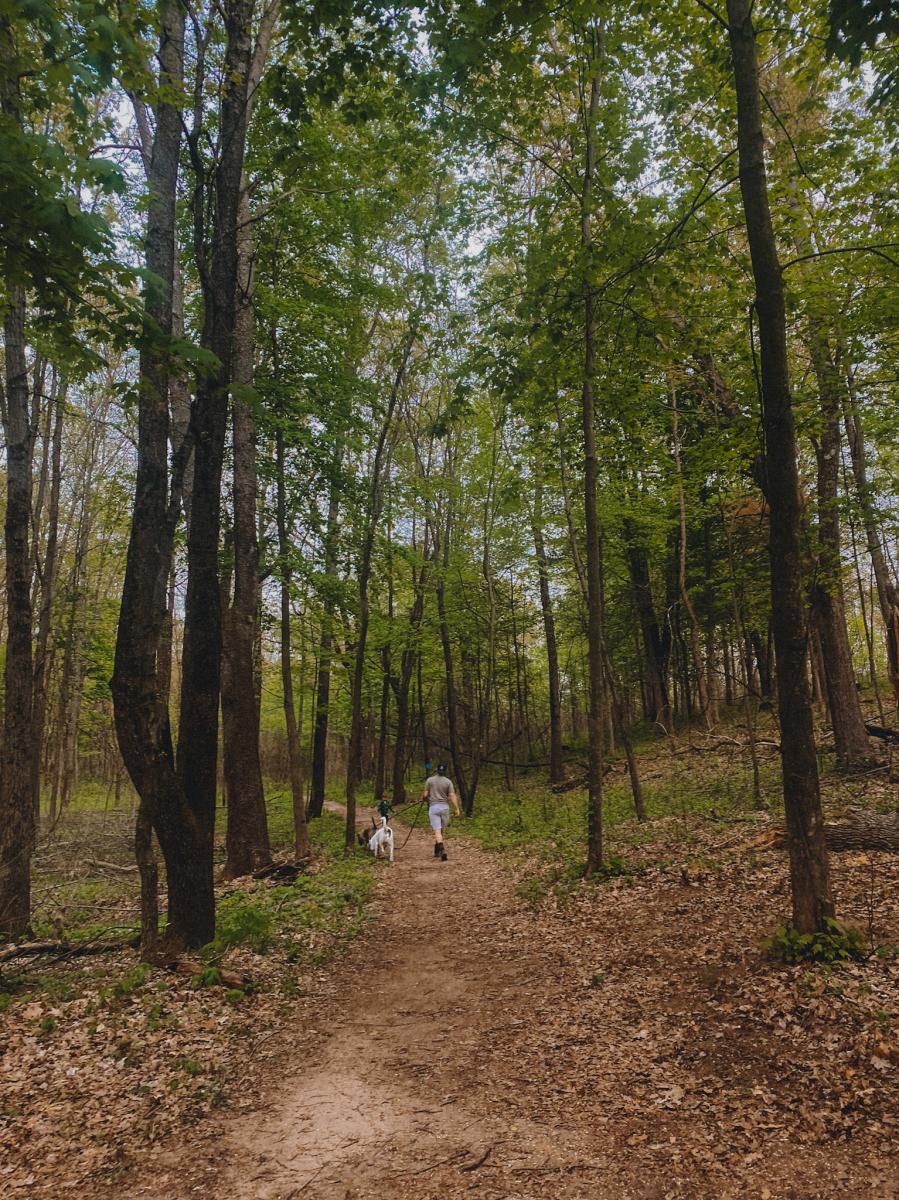 If there's one activity you don't want to miss out on while on your outdoor weekend getaway, it's experiencing our hiking and walking trails. They offer lush greenery in the spring and summer, stunning fall colors in the fall, and snow-filled scenery in the winter.
Home to over 14 miles of trails, the Kalamazoo Nature Center is an outdoor enthusiasts dream while on their outdoor weekend getaway. There are 10 trails to choose from, all of which range in difficulty and wind through prairies, maple trees, wetlands and wildlife. The Kalamazoo Nature center serves as an educational experience and features education programs and animal exhibits in addition to their gorgeous walking trails.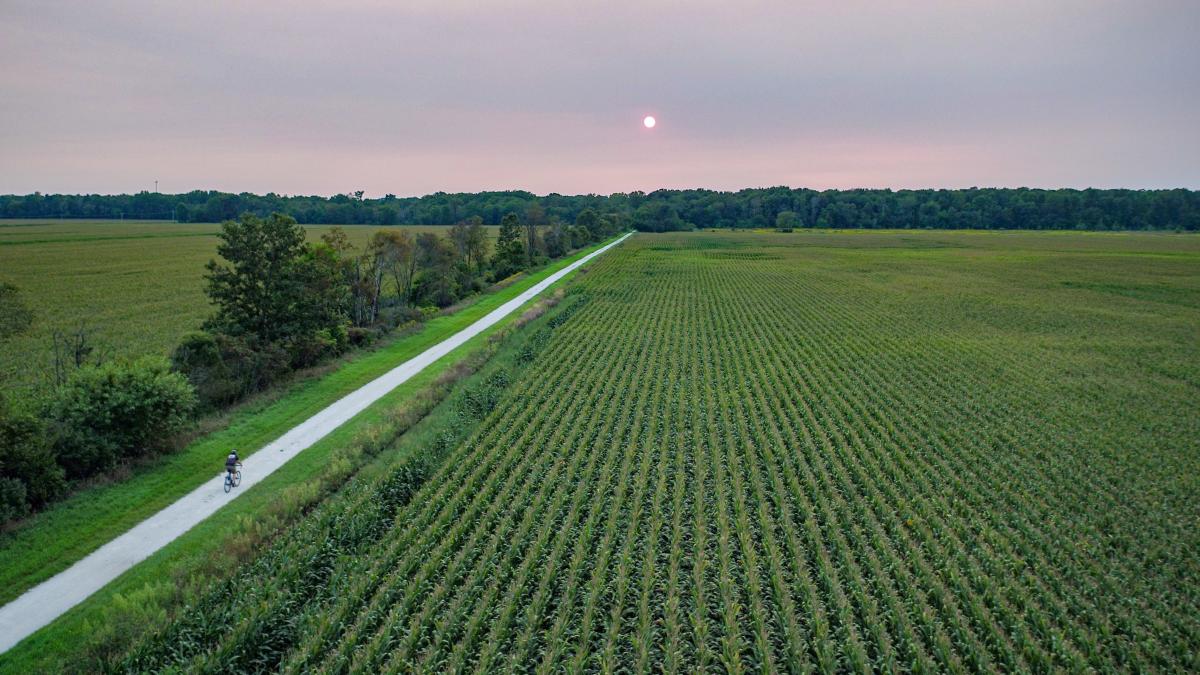 The Kal-Haven Trail links more than half a dozen old railroad towns between Kalamazoo and South Haven. It features a beautiful canopy of trees that then opens up to fields of Mentha. You may also find blueberry farms, rivers, bridges, and other outdoor scenery. This 34-mile-long trail can take two days or more to complete–depending on how long you stop at destinations along the way–so we recommend dedicating extra time to this trail during your outdoor weekend getaway.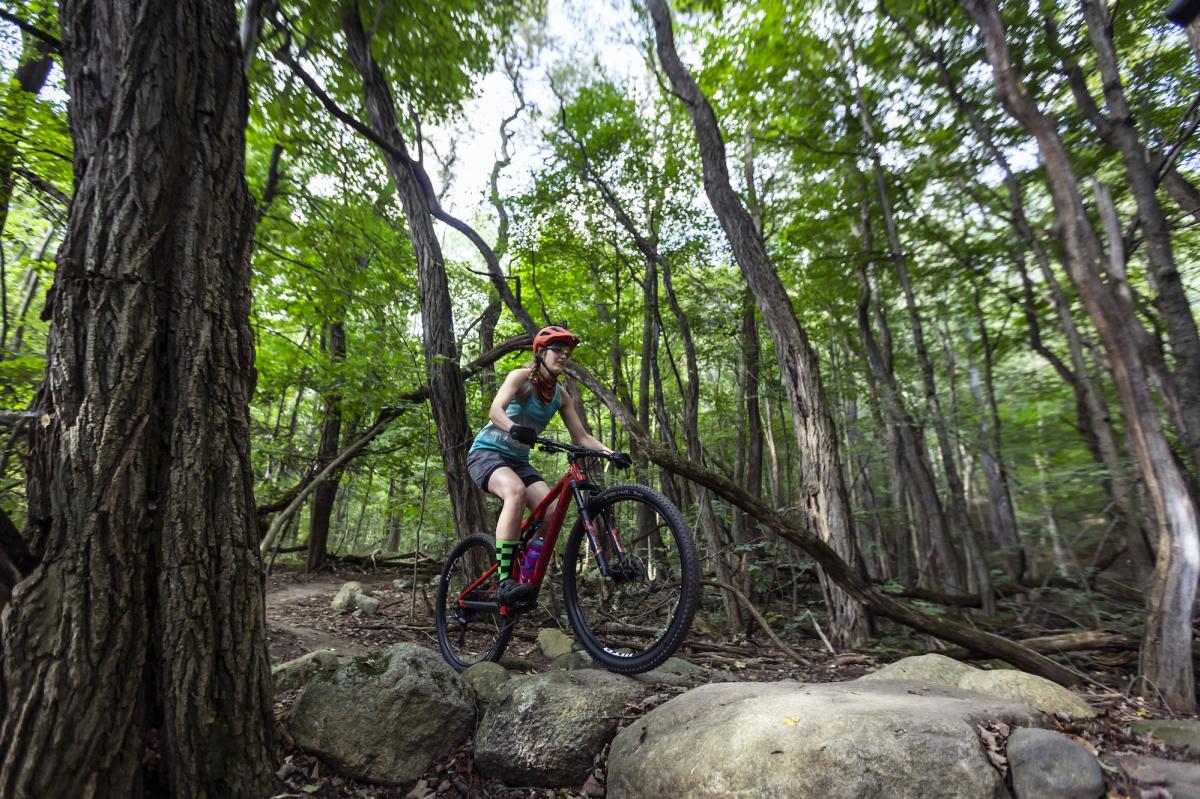 If biking makes for the perfect ingredient during your outdoor weekend getaway, Kalamazoo, Michigan is the perfect place to go. Just like our hiking trails, our biking trails are perfect year-round. Whether you're a casual cyclist looking for some scenic rides, or an experienced mountain biker seeking adventure, we have everything in between for you to enjoy.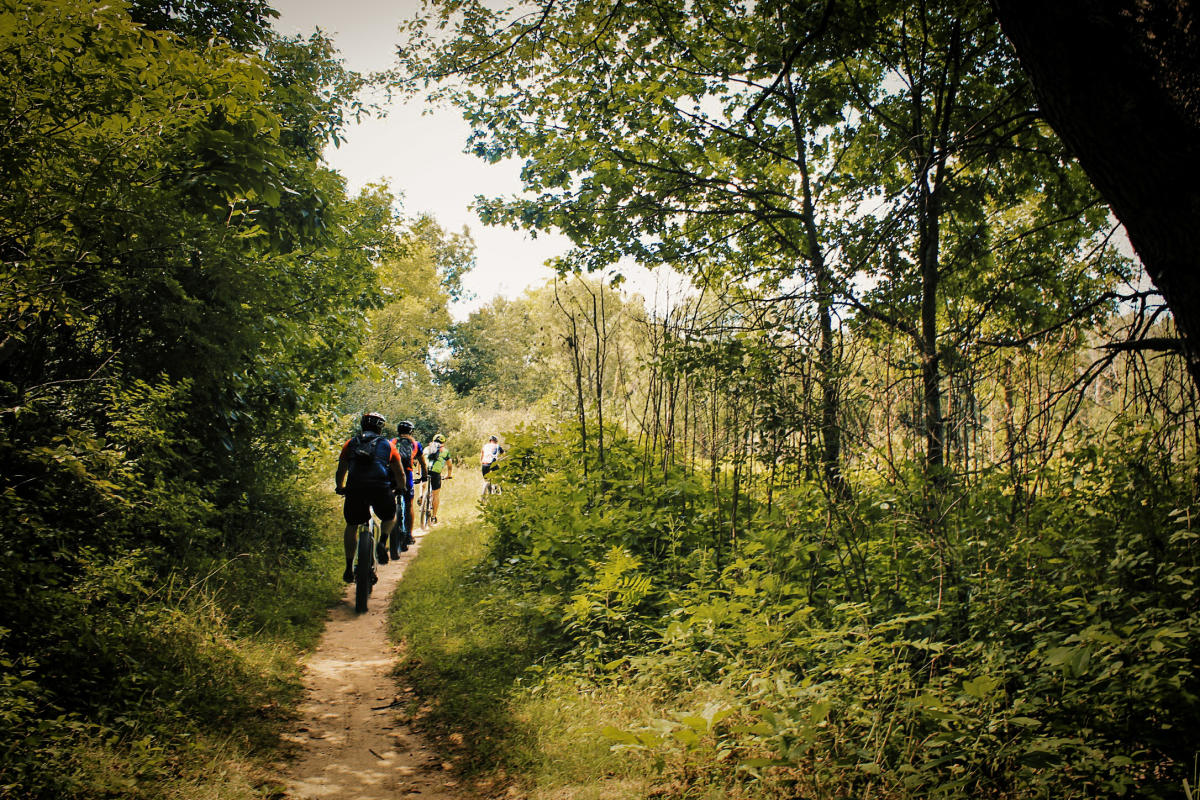 The Fort Custer Recreation Area features a 3,033-acre park with over 40 miles of trails. Between the second-growth forests and the remnant areas of prairie, there is so much to explore during your outdoor weekend getaway. The trails of this park are perfect for mountain biking and soaking in the gorgeous sites of southwest Michigan.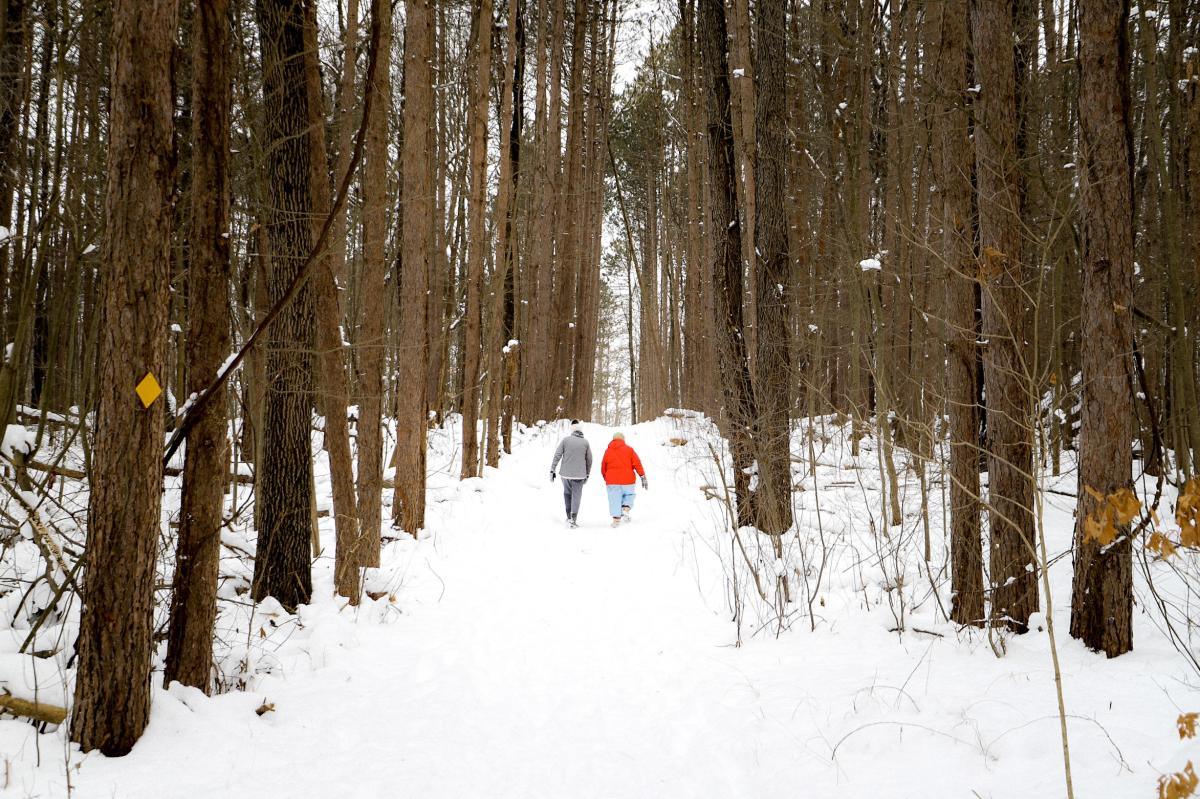 The best outdoor vacation spot has things for you to do during all seasons, even when it's cold outside and there's snow on the ground! Kalamazoo, Michigan makes for the perfect outdoor weekend getaway for that reason! Featuring cross country ski areas, snowmobiling, snowy hikes and more, you're sure to have the best outdoor vacation while you're here.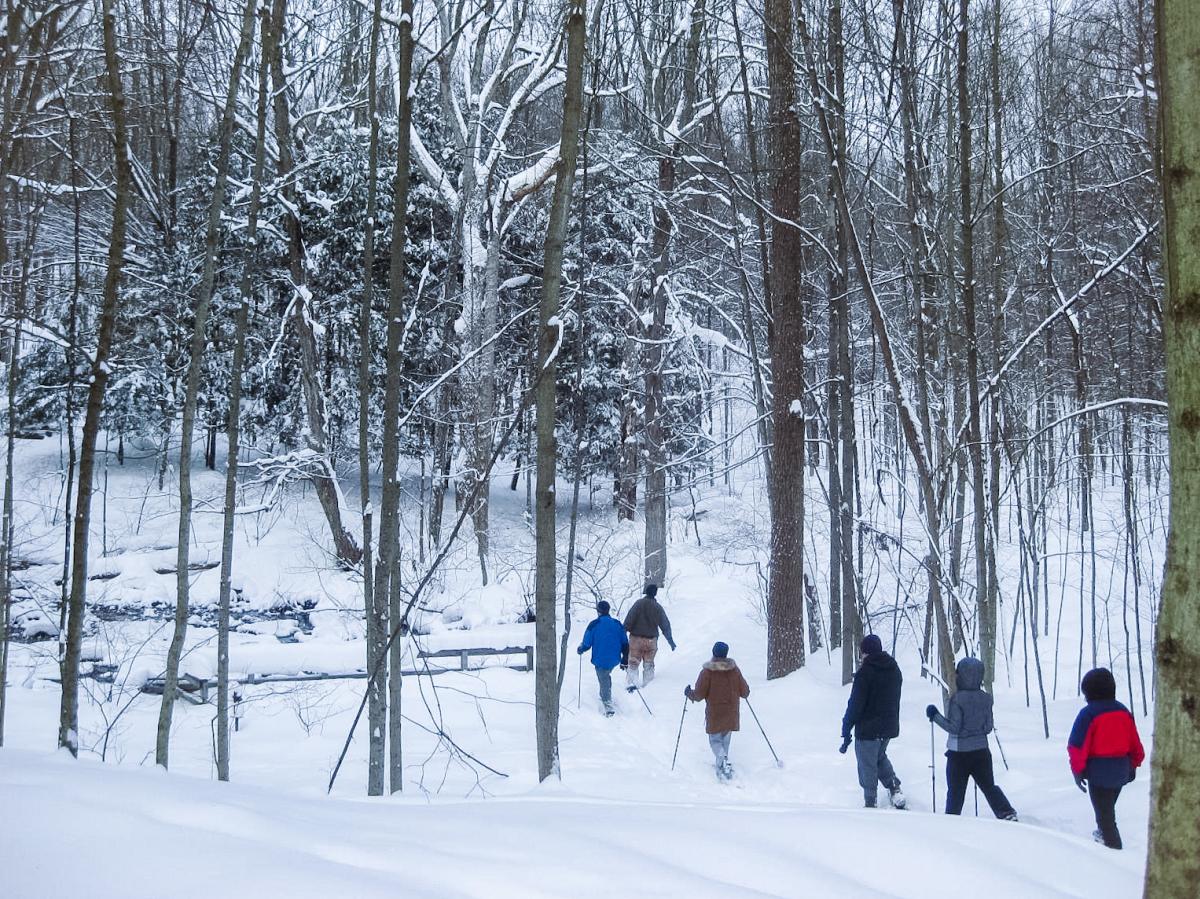 If your form of outdoor adventure comes with a couple of ski poles or a snowboard, Kalamazoo is just the right place for an outdoor weekend getaway. Hit the slopes at Swiss Valley Ski & Snowboard where you can experience 12 runs, a terrain park for more adventurous skiers, and lodging areas to relax and grab a bite to eat. Or, if you're more of a snow-tuber/sledder, Timber Ridge Ski Area is the perfect spot for you. They sell passes on a first come, first serve bases to be sure to get there early to enjoy the fun. 
Outdoor Spring & Summer Activities
There is no shortage of things to do in the spring and summer in Kalamazoo, Michigan, making it the best outdoor vacation spot. From thrilling trails full of lush greenery to amazing golf resorts that bring fun for the whole family, you don't want to miss out on a fun outdoor weekend getaway here.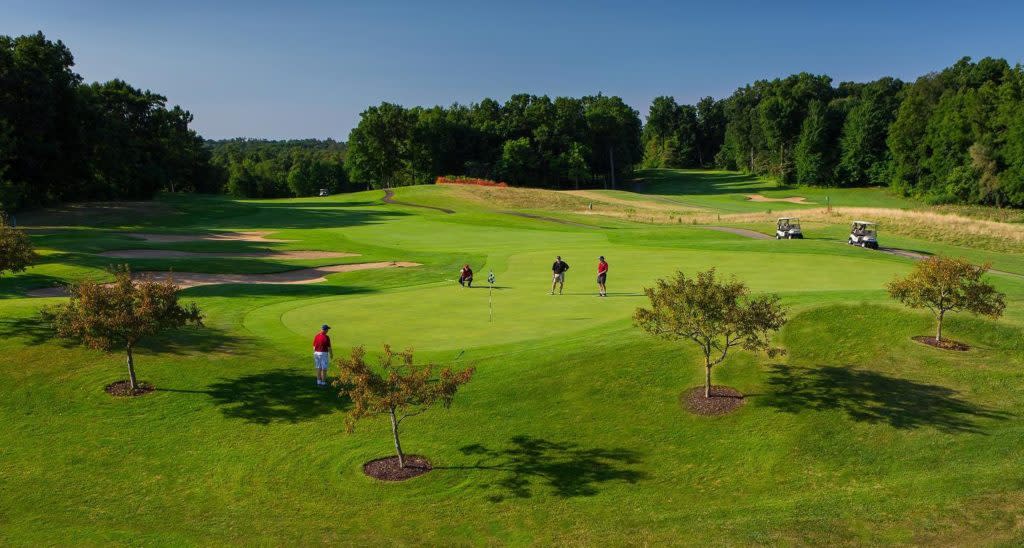 Arguably the best outdoor weekend getaway for some great golfing is Kalamazoo! With 11 golf courses to stay and play at, Kalamazoo has the right golf course for you whether you're a golf veteran, just getting started, or just wanting to get outside! 
Gull Lake View Golf Club & Resort is west Michigan's largest golf resort, boasting six championship golf courses and 108 holes total. It is also home to the ​2021 National Golf Course of the Year, Stoatin Brae. Come stay and play in Kalamazoo, Michigan on your outdoor weekend getaway! 
One of the more challenging golf courses Kalamazoo has to offer is Milham Park Golf Course. This challenging 18-hole course hosts many tournaments across its 130 acres, and is known as one of the best conditioned courses in the Kalamazoo area. Come put your golf skills to the test on your outdoor weekend getaway. 
We can't wait to host you on your next outdoor weekend getaway! Sometimes life calls for an outdoor escape– Kalamazoo is the best outdoor vacation spot all year round. Plan your trip and get exploring and adventuring. After spending your day in the great outdoors, catch some rest at one of the places to stay in Kalamazoo or book one of our specialty hotel packages.
For more information to aid your trip planning, be sure to request a visitor's guide and subscribe to our e-newsletter to get the latest and greatest Kalamazoo. And, don't forget to check out our calendar of upcoming events to see what's going on in the area during your visit!
Other Activities to Enjoy on Your Outdoor Weekend Getaway
Much of Kalamazoo's small town charm can be found in its hidden gems, like the local restaurants that serve up fresh and homegrown fare. Learn more about the different places to…
Not only can you rent pontoon boatd from Gull Lake Marine, they also offer ebikes! Each e-bike comes with a bag behind the seat to carry your essentials. Ride around the lake in…
Gull Lake Distilling Company is a family-owned, locally-sourced craft Distillery, Brewery, and Winery located in Galesburg, Michigan. Not only is their awesome patio dog friendly…
Adventure and Recreation at Fort Custer State Park
Fort Custer State Recreation Area is a 3,033-acre park featuring three lakes, the Kalamazoo River, a modern and equestrian campground, a swimming beach, more than 40 miles of trails, paddling and fishing opportunities, and much more.
Enjoy the Central Commons Social District Enjoy a drink to-go from one of Downtown Kalamazoo's many participating bars and restaurants as you stroll through the…
Kalamazoo is fast transforming into a great little biking city in West Michigan. Every day, a growing number of cyclists check their brakes, put air in their tires and head onto…
Find unbelievable deals that come with everything you need to enjoy a trip to Kalamazoo, including overnight accommodations, free hotel parking and more.