RICHLAND
Head northeast in Kalamazoo County and you'll be greeted by an abundance of gorgeous dense forests, winding back roads and hands-down the clearest fresh water inland lake in Southwest Michigan.
An experience unlike any other; custom, classic, and new.
Richland Itineraries
1
Gull Lake Marine offers the opportunity to rent Tritoon and pontoon boats, as well as Malibu ski and surf boats. Boats are available in 2 hour, 4 hour, 1 day or 1 week segments.

Drinks at The Dock
Located just off the bay of Gull Lake, The Dock offers the perfect laidback atmosphere to enjoy a drink with friends! In the spring and summer months, enjoy the outside deck that offers sunsets and views of beautiful Gull Lake or in colder months enjoy dinner next to their cozy fireplace inside.

Dinner at NEDS
NEDS is a pizza, grinders and burger joint, serving BBQ on Sundays, as well as take-out beer and wine! Don't want to leave the lake? No problem. They deliver right to the boat launch!
2

Lunch at Chicken House
This tiny little hut on the shores of Gull Lake's bay is the Chicken House! Soon to be one of your new favorite spots for breakfast, lunch or dessert, the Chicken House serves up fresh and amazing fried chicken that pairs well with glazed donuts or topped with jalapenos and wrapped in a warm tortilla!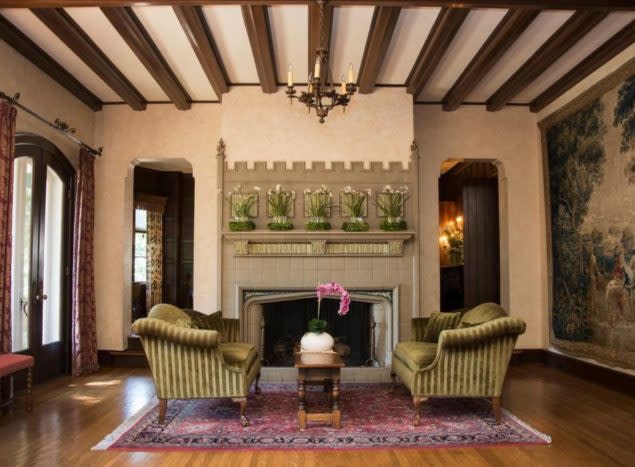 Tour the W.K. Kellogg Manor House
W.K. Kellogg Manor House is the former estate of cereal magnate W.K. Kellogg and his wife, Dr. Carrie Staines Kellogg. Restored to its original grandeur in 2000, the home is rich with history and elegance with natural gardens around a lovely lakeside setting, making the Manor House truly a destination for all.

Dinner at Kitchen House
Locally focused and Italian Inspired, Kitchen House believes that food is better when it's. harvested close to home! They serve up rustic American fare that celebrates Michigan and honors the culture of breaking bread.
3

Golf at Gull Lake View Resort
Gull Lake View is the Midwest's premier, stay and play golf destination. Southwestern Michigan's idyllic lake country is the backdrop for our six championship golf courses, each of which has earned a rating from Golf Digest of 4.5 stars or higher.

Lunch and Drinks at Charles & Darl's
Charles & Darl's offers mouthwatering BBQ meals while overlooking the first hole of Gull Lake View East. Now offering bulk-pickup, office lunches, & catering options,
If you're in the Richland area, you're not going to want to miss a visit to the largest car collection in North America - the Gilmore Car Museum! With a 90 – acre campus and 7 different car museums, there's something here for every car enthusiast.
Richland is a small village in Kalamazoo County, located less than 10 miles northeast of downtown Kalamazoo. The Richland area is known for it's quaint downtown,
There's nothing typical about Kalamazoo. We're multicultural and urban, yet down-to-earth and homegrown. A city rich with creative energy, where our sense of adventure…
From laid back breweries and a lake life mantra to carefully curated shops and fine dining, the Portage and Texas Township area of Kalamazoo County is an outdoor enthusiasts haven…
There's nothing typical about Kalamazoo. We're multicultural and urban, yet down to earth and homegrown. A city rich with creative energy, where our sense of adventure…
From laid-back breweries and a lake life mantra to carefully curated shops and fine dining, the Oshtemo and Texas Township area of Kalamazoo County is an outdoor enthusiasts…
Much of Kalamazoo's small-town charm can be found in its hidden gems, from the historic landmarks and robust antique and vintage scene to the four-season outdoor recreation…
On the outskirts of both Climax and Scotts, you'll find two of Kalamazoo's most unique and sprawling county parks for outdoor adventure, quintessential main streets…
From the historic restoration of an entire village and the preservation of a landmark of the Underground Railroad, to honest to goodness local grub and good company, the quaint…
Discover the Corners of Kalamazoo