One of the many ways to get outside and enjoy Kalamazoo this summer is by visiting one (or all) of our beautiful golf courses! Whether you've been golfing your entire life and are looking for a course to put your skills to the test or you're a first timer in search of a simpler course to break in your swing - Kalamazoo has a course for you.
To give you some insight on our local courses, our Director of Sports Event Development and golf enthusiast, Brian Persky is sharing his 6 tips, tricks, and favorite holes for you to use as a guide the next time you golf in Kalamazoo, you're looking for a course to host an event, or you're trying to improve your golf game.
Vicksburg, Michigan
"If you connect on your drive, you've got an interesting choice to make on your second shot. Be aggressive and get rewarded by carrying your second shot over a wetland area, or layup with more obstacles. Either way, this hole is gorgeous and if you play it right, you'll find yourself with a birdie (or eagle?) opportunity."
Kalamazoo, Michigan
 

View this post on Instagram

 
"I chose this hole because the tee box is perched high above the green looking down on a short Par 3 that runs alongside historic Milham Park. For players like me who worry about their slice, try not to think about the small pond (part of Portage Creek) off to the right... just appreciate the view."
Augusta, Michigan
 

View this post on Instagram

 
"This has always been one of my favorite holes on the course because it's right after visiting 'The Bunker' at the turn, it provides one of best views of the course, and it's a wide open Par 4 that you can swing away at -- just a fun way to start the back nine."
Portage, Michigan
 

View this post on Instagram

 
"Hard to pick just one hole here, but it's got to be the island Par 3 on the back that mimics the infamous Hole #17 at TPC Sawgrass. Make this one count because the next two holes are two of the toughest on the course."
Otsego, Michigan
 

View this post on Instagram

 
"There's something about this hole that I've always liked; between the scenic view at the tee box, and the forgiving way this hole plays, it can be a nice little confidence boost to close out the front nine. This will initially feel like a narrow tee shot until you put one out there and realize just how wide the fairway actually is. The approach shot to the green is hitting blind up over a hill (or bunker depending on your distance), but hit this ball with confidence and you're likely to be pleasantly surprised."
Augusta, Michigan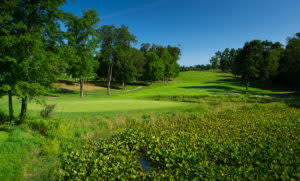 "This is an interesting Par 5 in that the fairway ends at 240 yards out, then there's a big drop off to the bottom tier of the hole where the fairway resumes. It's a high risk/reward hole with water protecting the front edge and left of the green. Regardless of how you choose to play this hole, it's not like any other Par 5 hole you've ever played."