KALAMAZOO, MI –  Kalamazoo Beer Week, fondly known as KBW, is expanding in 2021 and will now be named Kalamazoo Craft Beverage Week.
The goal is to include even more Kalamazoo makers, adding local distilleries and wineries to join in with the breweries and celebrate the craft beverage industry as a whole.
The annual week-long event is scheduled to run January 29th through February 6th, but may have some changes pending any restrictions at that time.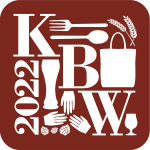 "Health and safety is a priority, and we're working hard with our partners to execute a safe event amid current precautions and restrictions," said Dana Wagner, Director of Marketing and Communications with Discover Kalamazoo, the organization that manages KBW. "While we currently cannot have any large events as part of the week, like bar crawls or festival-style gatherings, there are safe ways to still enjoy our local craft beverages."
The event website now features a tab for "specials" where participating breweries, distilleries, and bars have listed their various to-go options and links for ordering, as a way to encourage support for local partners amid the current pause on indoor dining. As the event draws closer, organizers will work to add specific activities for the event week, based on the restrictions at the time.
"Whether we have virtual meet the brewer sessions, or hybrid activities that include a to-go pairing guided through an online class, the focus is all on highlighting our local partners and supporting our craft beverage industry in any way we can."
To see current offerings from local craft beverage partners and to stay up to date with the event, visit KalamazooCraftBeverageWeek.com and follow #KBW2021.