Are you looking for kid-friendly restaurants in Kalamazoo? Look no further! This local guide will provide you with the county's best family-friendly dining options. From pizza parlors to ice cream shops, we'll show you all the kid-friendly restaurants you need to know about. Whether you're looking for a family-friendly dinner spot or just somewhere to grab a quick bite with the kids, this guide covers it all.
Read on to discover the best places to dine in Kalamazoo for families!
Presidential Brewing Company

The Backyard of Kalamazoo

Apple Knockers Ice Cream Parlor

Latitude 42 Brewing

One Well Brewing

Mezanmi Play Cafe

The Front Porch

Nonla Burger

Neds

Paris Banh Mi

Gull Lake Distilling

LFG Gaming Bar

D'nicios

Rollup Ice Cream
Presidential Brewing Company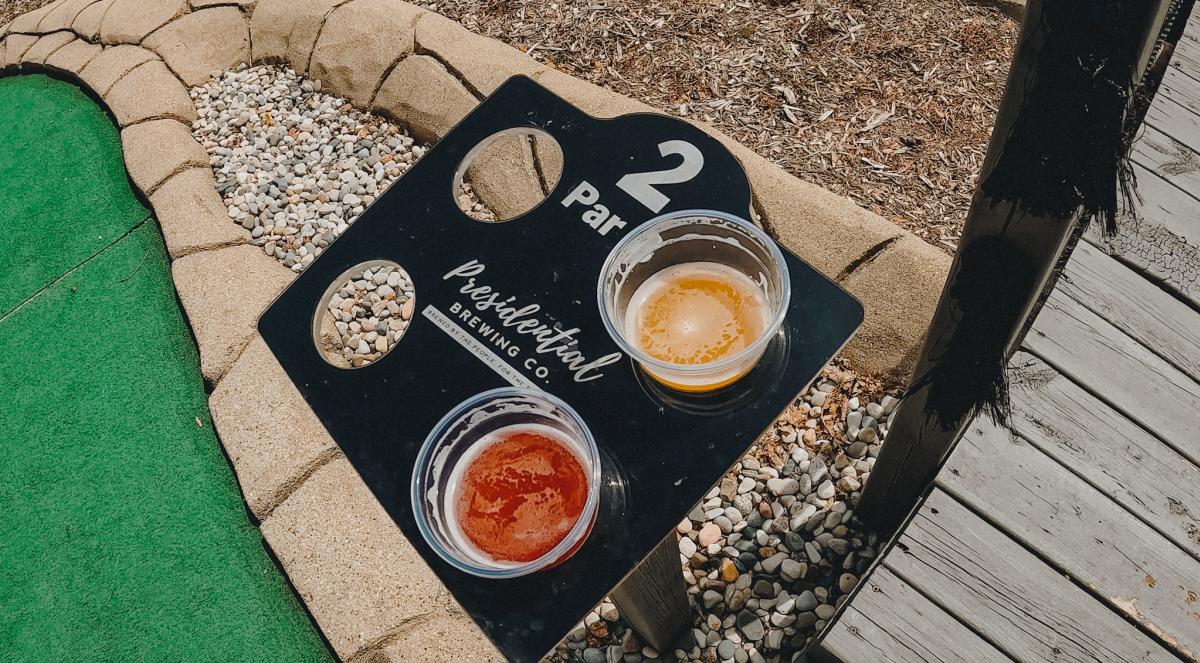 Presidential Brewing Company is a popular spot for family-friendly dining in Kalamazoo. The atmosphere is lively and welcoming, focusing on fun and community. Visitors can choose from a wide variety of beer, cider, and seltzers, with something to please every palate. The menu of classic comfort foods is also sure to satisfy any hunger.
What sets Presidential Brewing Company apart from other kid-friendly restaurants is the abundance of activities available. Something is always happening here: live music, team trivia, or open mic night. The outdoor bar and patio area is the perfect spot to relax and soak up some sun, and there is even a mini golf course and cornhole area for entertainment.
Visitors rave about the blackberry and goat cheese burger, a unique and flavorful take on a classic burger.
The outdoor area is especially noteworthy, with a spacious stage for live music performances, plenty of seating, and an outdoor bar area. Kids and adults will love the mini golf course, which is perfect for friendly competition.
Overall, Presidential Brewing Company is a must-visit kid-friendly restaurant for families seeking a fun and relaxed dining experience in Kalamazoo County.
The Backyard of Kalamazoo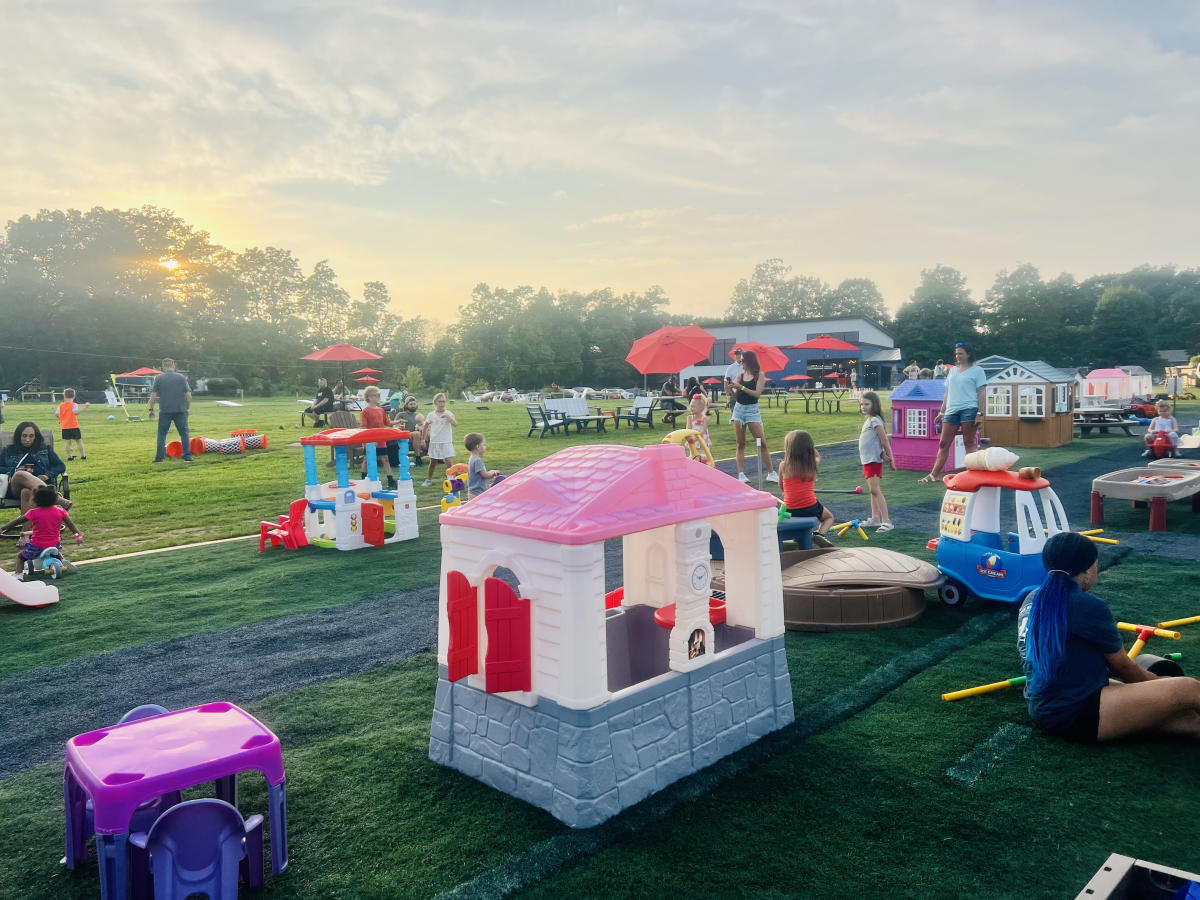 The Backyard of Kalamazoo is a new concept restaurant in the area where both adults and kids can play, eat and drink! They have full service inside and outside on the patio. The bars, both inside and outside, serve craft cocktails, beer, and wine. If you want to play, The Backyard, features 7 acres of fenced-in fun! They have games, activities, and events for all ages to enjoy. Corn hole, outdoor pool tables, ping pong tables, a neighborhood made of outdoor playhouses, and hundreds of toys, are just a few of the things you will find at this kid-friendly restaurant. They feature seasonal events, activities and games that are constantly evolving!
To enter the yard, you pay an entrance fee:
$30 adult season pass
$15 child season pass, or
$12 adult daily pass
$6 child daily pass
​
Apple Knockers Ice Cream Parlor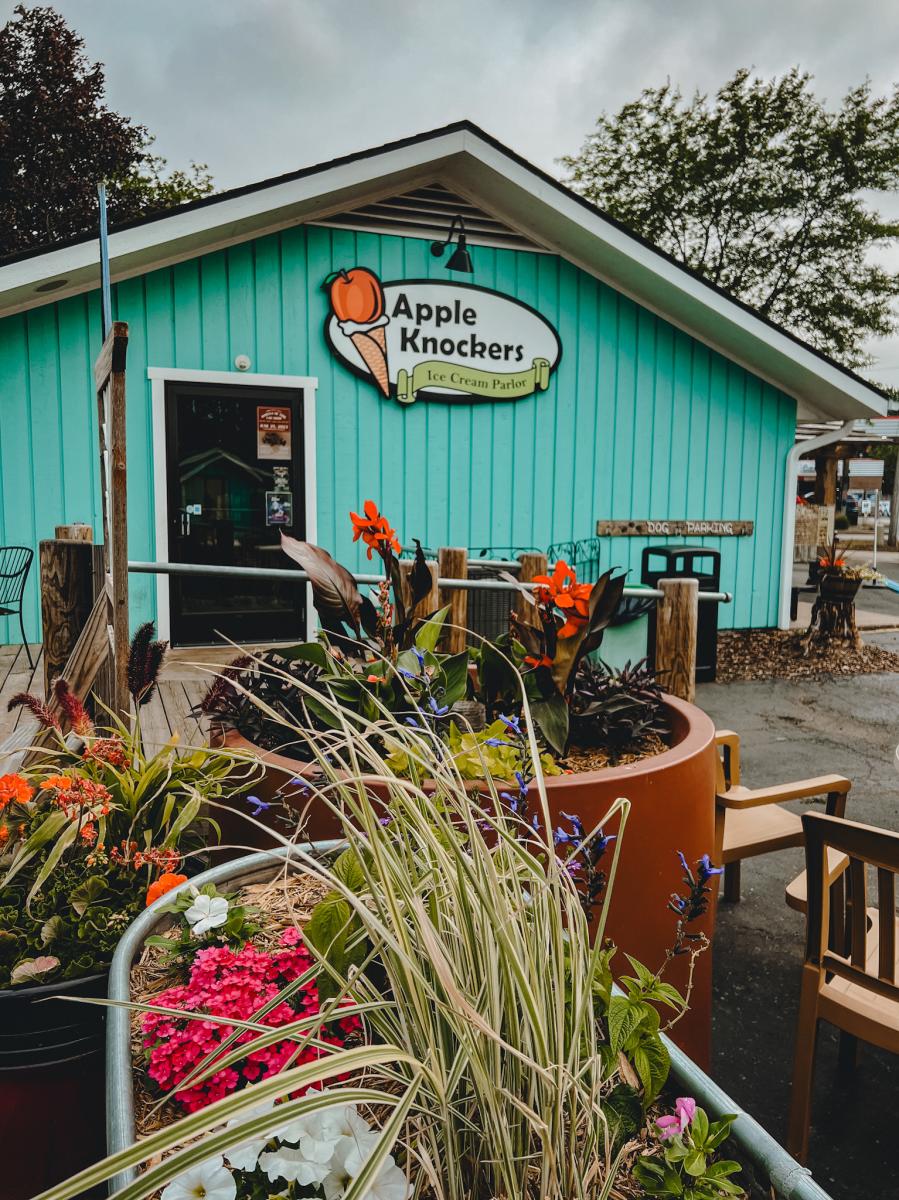 Apple Knockers Ice Cream Parlor is a seasonal restaurant and ice cream parlor in Vicksburg, MI that is open from spring through October every season. Although it's only open for a few months, it's worth a visit if you're looking for kid-friendly restaurant options in Kalamazoo County.
Apple Knockers is known for its great food options at amazing prices. The restaurant has a diverse menu, with something for everyone, including hot dogs, burgers, fries, and delicious ice cream treats.
For children, Apple Knockers offers kid-friendly meal options such as chicken tenders, grilled cheese, and peanut butter and jelly sandwiches. The restaurant also has a vast selection of ice cream flavors, perfect for satisfying any sweet tooth.
The outdoor area of Apple Knockers is also a highlight, with picnic tables and a pirate ship playground for kids to enjoy. It's the perfect spot for families to sit, relax, and enjoy a meal or treat in the beautiful Michigan sunshine.
If you're looking for a seasonal family-friendly dining experience with a fantastic atmosphere, delicious food, and ice cream treats, Apple Knockers is worth checking out.

Latitude 42 Brewing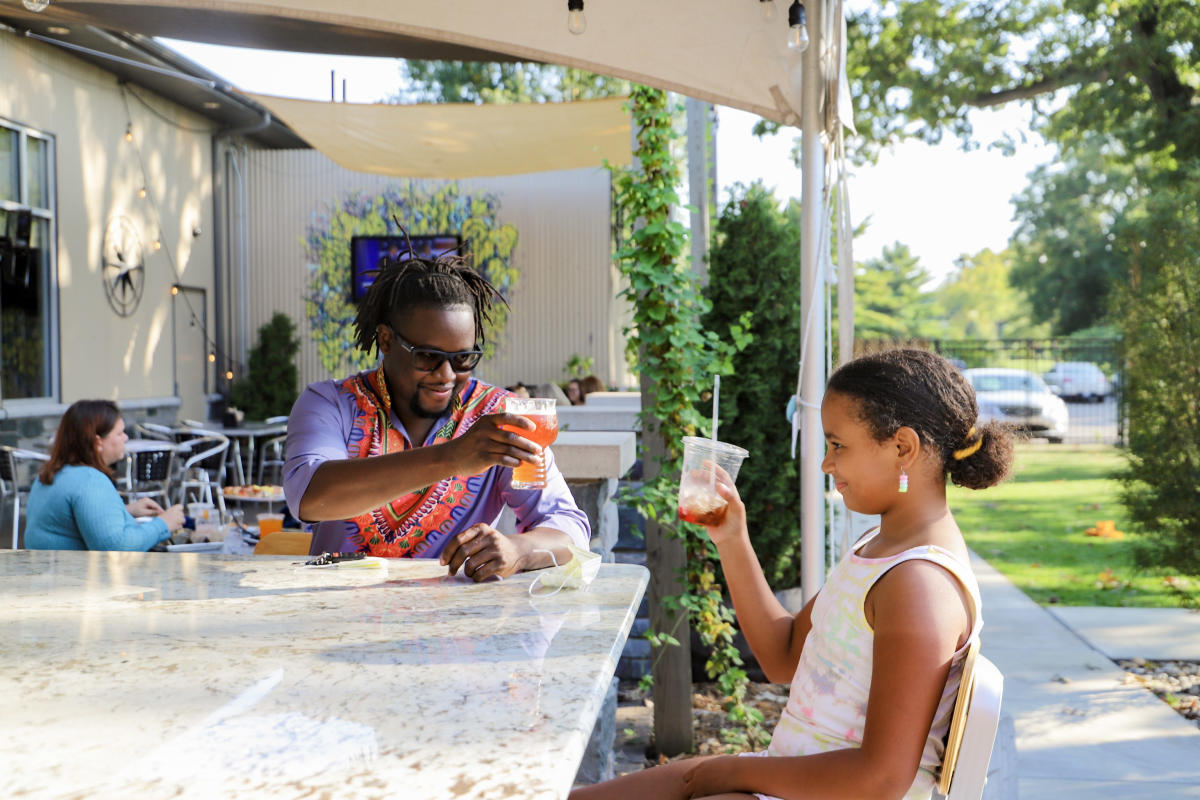 Located in Portage and Oshtemo, Latitude 42 Brewing is a popular spot for families looking for a kid-friendly restaurant experience in Kalamazoo County. This brewpub not only offers a great selection of craft beers for adults but also has a menu that caters to children's tastes.
You get the family-friendly dining vibe from Latitude 42 as soon as they hand over their kid's menu which is printed on a treasure-hunting activity sheet with a maze, tic tac toe, and a pirate to color. For the little ones, Latitude 42 Brewing offers a variety of options such as classic Mac and Cheese, Chicken Tenders, and Mini Cheeseburgers. These dishes are sure to satisfy even the pickiest eaters, ensuring that everyone in the family can enjoy a delicious meal together.
One of the highlights of Latitude 42 Brewing is its outdoor beer garden. This spacious area provides a perfect spot for families to relax and enjoy their meals. The beer garden is equipped with picnic tables and beautiful greenery, creating a peaceful and inviting atmosphere. It's a great place for kids to run around and play, while parents can sit back and enjoy a cold beer.
In addition to the kid-friendly menu and outdoor beer garden, Latitude 42 Brewing also hosts various events throughout the year that cater to families. From live music performances to holiday celebrations, something fun always happens at this family-friendly brewpub.
So, if you're looking for a place to enjoy good food and beer while keeping the kids entertained, Latitude 42 Brewing is worth a visit.

One Well Brewing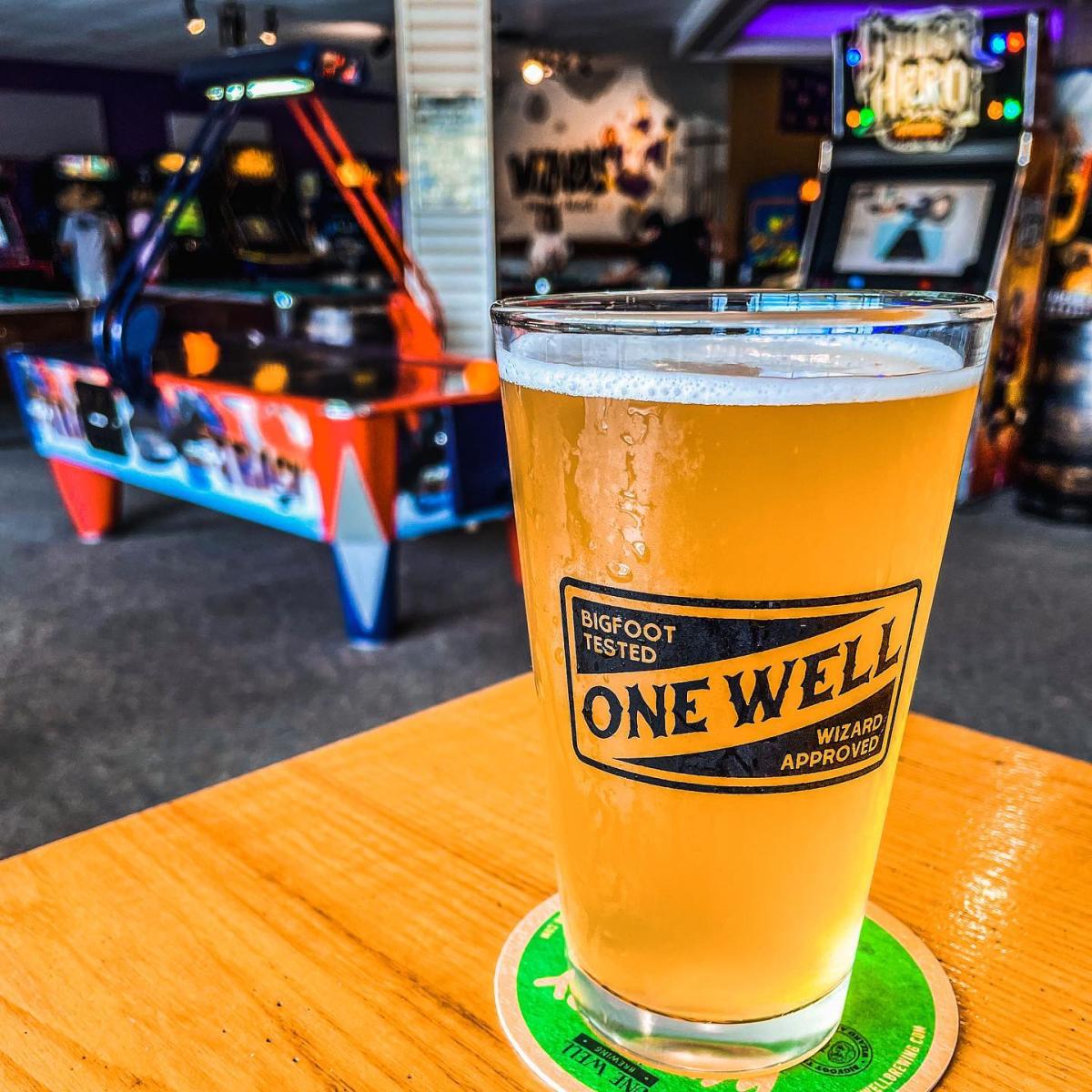 One Well Brewing is another fantastic kid-friendly restaurant in Kalamazoo County. The best part? All ages are welcome, so you can bring the whole family along for a fun family-friendly dining experience.
One Well Brewing is known for its impressive rotating selection of craft beers. There is always something new and exciting to try, from their mainstays to their seasonal brews. Craft beer lovers will not be disappointed here.
The atmosphere at One Well Brewing is friendly and casual, making it the perfect place to unwind and enjoy a meal with your loved ones. They offer bar service and community seating, creating a warm and inviting environment.
If you're looking for family-friendly entertainment, check out Wizards Pinball Palace, located inside One Well Brewing. This retro-themed pinball arcade will keep kids and adults entertained for hours.
Regarding the menu, One Well Brewing has plenty of options suitable for children. From tasty appetizers like loaded tater tots to their delicious mac and cheese, there is something to satisfy even the pickiest of eaters at this family-friendly restaurant.
One Well Brewing takes pride in their food and beer, making every effort to ensure they are prepared to the best of their abilities. So, whether you're stopping by for a beer or a meal, you can rest assured that you're in for a delightful family-friendly dining experience at One Well Brewing.
Mezanmi Play Cafe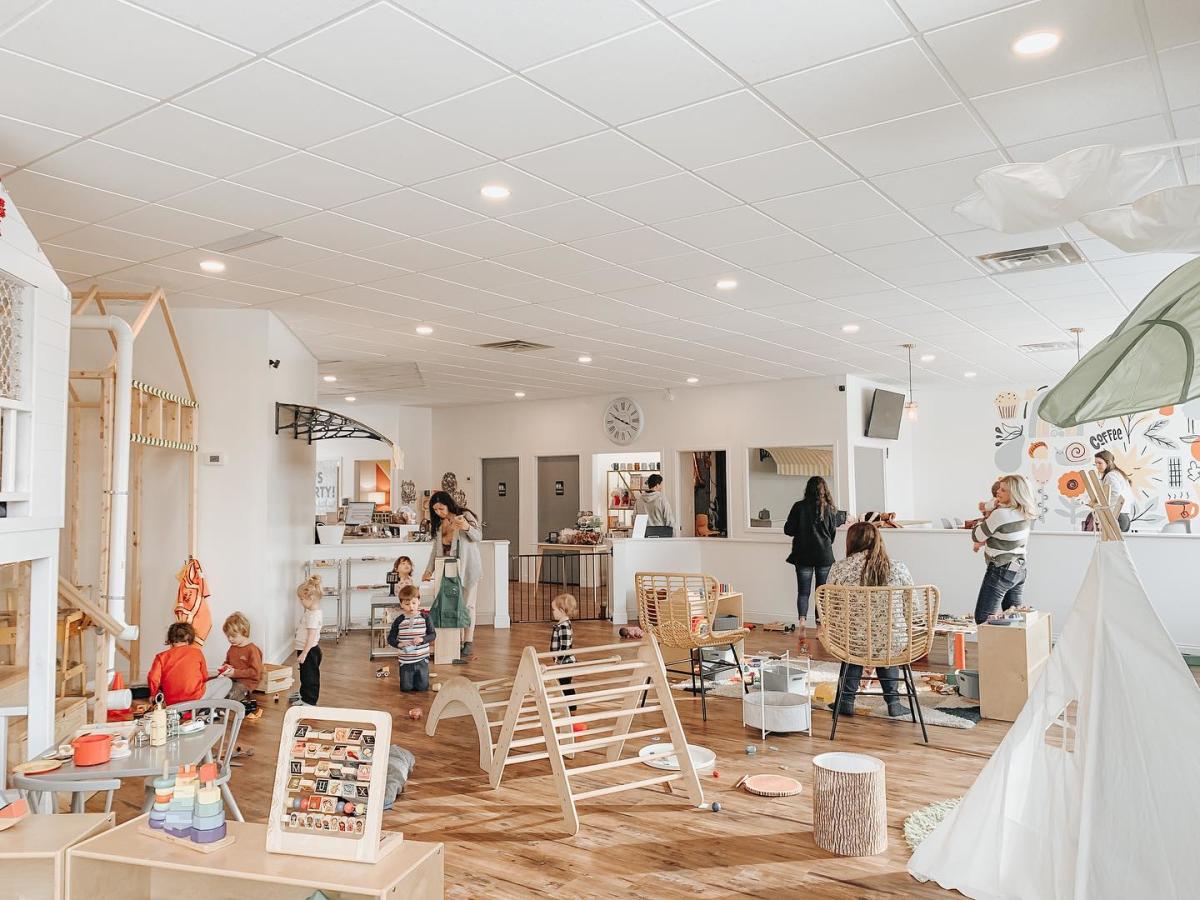 If you're looking for a family-friendly cafe experience in Kalamazoo County, Mezanmi Play Cafe is a must-visit. With locations in Vicksburg and Mattawan, Michigan, this shoe-free (socks-required) indoor play cafe is perfect for babies, toddlers, and preschoolers aged 0-6.
The mission of Mezanmi Play Cafe is to provide a space where young children and their caregivers can socialize, engage, and feel safe. The cafe features imagination-inspired play areas, a cafe with a full menu of hot and iced espresso drinks and flavored lemonade, comfortable lounge areas, and even free WI-FI for those who want to catch up on work or connect with friends while their little ones play.
What sets Mezanmi Play Cafe apart is its focus on healthy parenting during the early years. By promoting positive interactions between caregivers and children, the cafe supports thriving families that strengthen the community. It's the perfect place to meet up with friends, make new connections, and create lasting memories with your little ones.
So, if you're in Kalamazoo County and looking for a kid-friendly restaurant option, visit Mezanmi Play Cafe. It's the perfect place to fuel up, have fun, and connect with other families in a welcoming and safe environment.

The Front Porch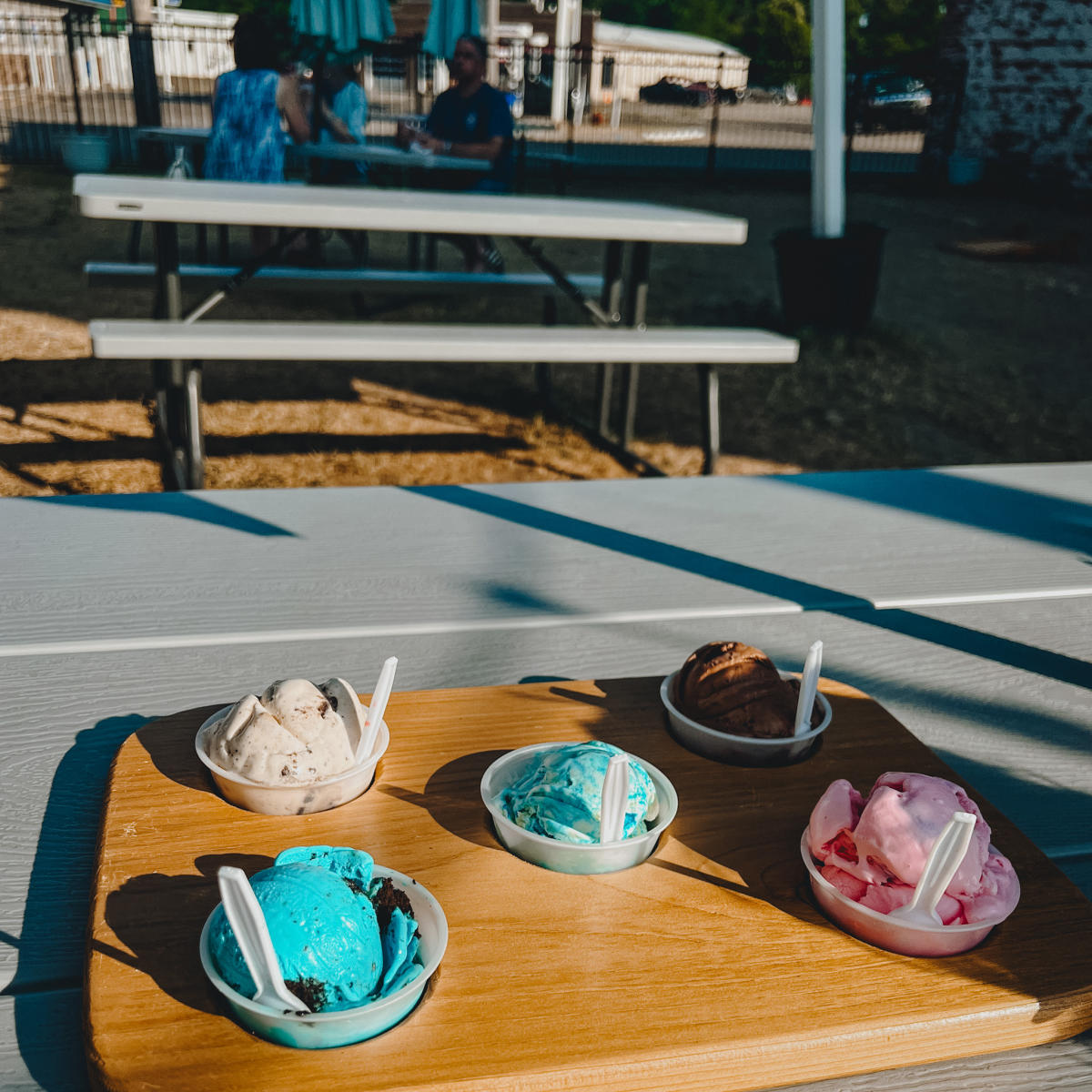 The Front Porch of Galesburg offers a traditional drive-in hot dog stand experience that will take you back in time. You can dine in your car or at one of their picnic tables, making it arguably one of the most kid-friendly restaurant options available! Just strap your kiddos in and you're ready to eat. The Front Porch is a local favorite and has been serving up delicious hot dogs, coney dogs, and burgers for years. They even have their own homemade coney sauce that's a hit among regulars.
The outdoor space is charming, with colorful umbrellas providing shade and vintage signs adding character. The Front Porch is a great place for kids to enjoy a quick meal before running around on the nearby playground.
The menu at The Front Porch is simple but delicious. In addition to hot dogs and coney dogs, they offer a selection of sandwiches, salads, and sides. They have a children's menu with options like corn dogs, grilled cheese, and chicken nuggets.
But the real star of the show at The Front Porch is the ice cream. They have a rotating selection of flavors, and you can even try an ice cream flight to sample multiple flavors. Don't miss out on their delicious sundaes and milkshakes as well. After all, what's a kid-friendly restaurant without a sweet treat afterward?
Overall, The Front Porch is a great family-friendly option for families looking for a fun and casual experience with delicious food and great ice cream.
Nonla Burger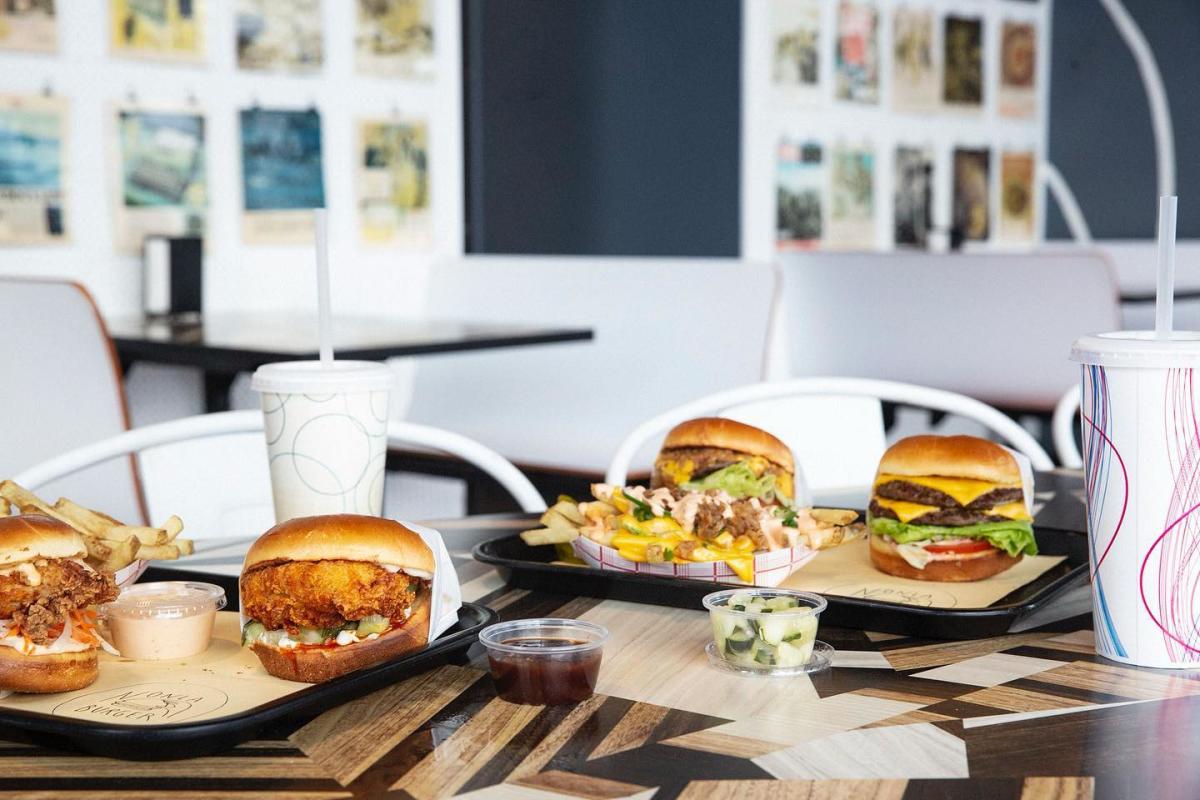 Nonla Burger is a fantastic option for family-friendly dining in Kalamazoo. This popular restaurant specializes in delicious burgers, made with high-quality ingredients and perfectly cooked. While their menu offers a wide variety of adult burgers, they also have options suitable for kids.
One of the highlights for children at Nonla Burger is their "Little Cowpoke" burger, a smaller-sized burger topped with all the classic fixings. This ensures that even the pickiest eaters will find something they enjoy. The friendly and accommodating staff are always happy to make adjustments or substitutions to cater to individual tastes and dietary needs.
Not only is Nonla Burger's menu suitable for kids, but the atmosphere is also welcoming. This kid-friendly restaurant has a vibrant and fun décor, with a cozy seating area perfect for families. Children will feel comfortable and entertained in this lively setting.
Nonla Burger has two convenient locations in Kalamazoo County. Both locations offer the same great menu and friendly service, making it easy to satisfy your burger cravings wherever you are in the area.
To top off your dining experience at Nonla Burger, check out their daily milkshake of the day specials. These delicious creations are made with fresh ingredients and are the perfect way to end your meal on a sweet note.
Next time you want a family-friendly dining option in Kalamazoo, visit Nonla Burger. Their tasty burgers, welcoming atmosphere, and convenient locations make it a perfect family choice.

Neds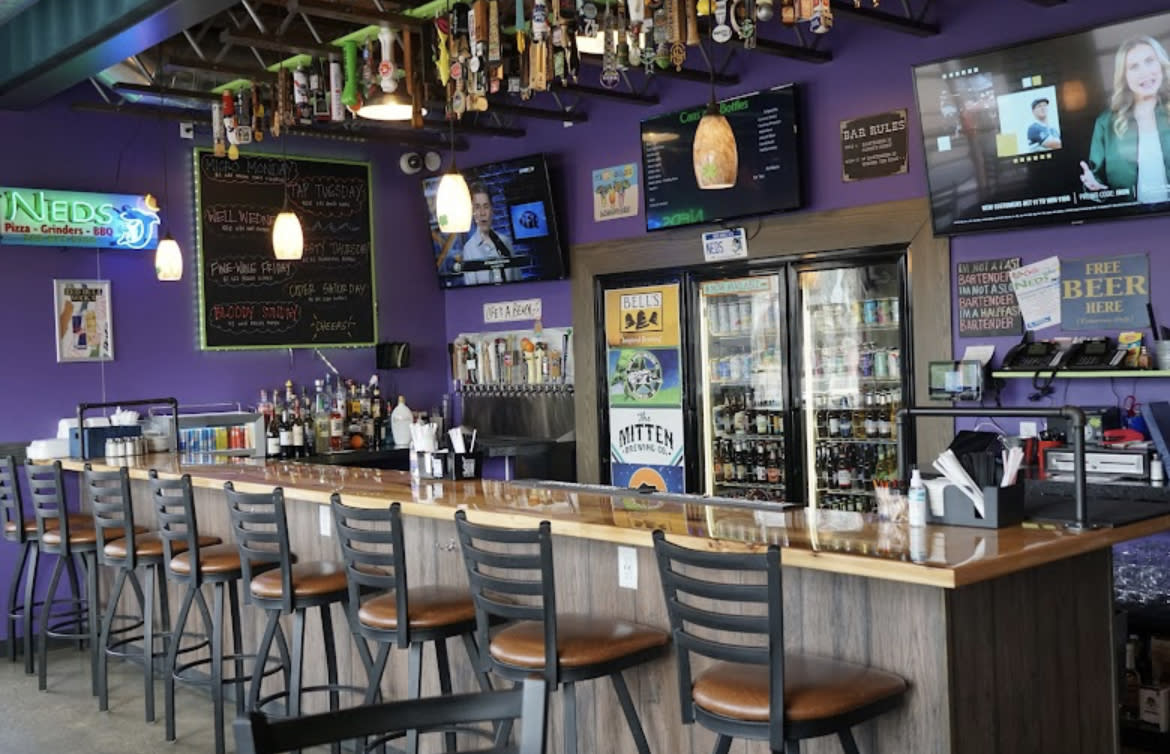 NEDS on Gull Lake is a beloved, family-owned restaurant serving the Kalamazoo community for over 20 years. Nestled on the picturesque shores of Gull Lake, this charming establishment offers family-friendly dining with a menu specializing in classic American fare with a modern twist.
At NEDS on Gull Lake, you'll find many delectable options to satisfy everyone's taste buds. From mouthwatering burgers and crispy pizzas to refreshing salads and flavorful seasonal dishes like pulled pork and smoked chicken wings, there is something for every family member.
What sets NEDS on Gull Lake apart is their commitment to using only the freshest local ingredients. Each dish is carefully crafted from scratch, ensuring a truly memorable dining experience. Whether craving a comforting, hearty meal or looking to indulge in culinary adventure, NEDS on Gull Lake has got you covered.
So, if you're in the mood for delicious food, warm hospitality, and a serene lakeside ambiance, NEDS on Gull Lake is the place to be. Visit this kid-friendly restaurant in Kalamazoo and treat yourself to a mouthwatering meal cooked to order. You won't be disappointed!
.
Paris Banh Mi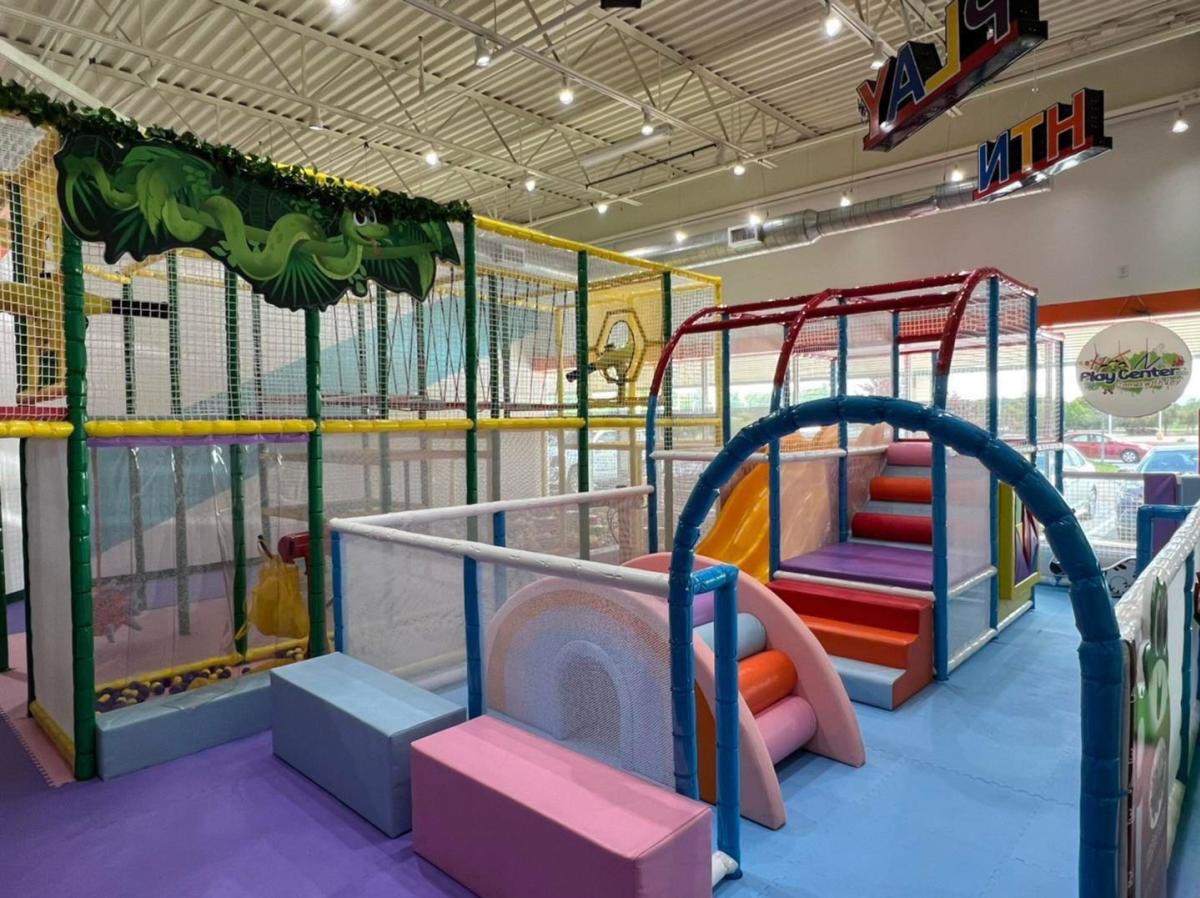 Paris Banh Mi Cafe & Bakery is a hidden gem in Portage, Michigan, serving delicious Vietnamese sandwiches and coffee. It's the perfect place for family-friendly dining with a relaxed atmosphere. This cozy little cafe is known for its traditional Vietnamese banh mi options on fresh-baked baguettes. They also have croissants, pastries, and handcrafted specialty drinks, including the famous Paris By Night. The cafe is proud to offer a fresh French bakery with cakes and pastries crafted daily.
What sets Paris Banh Mi apart from other dining options is its location inside the HTN Play Center and Indoor Playground, making it an incredibly kid-friendly restaurant. So, while you're enjoying your meal, your kids can have fun and burn off some energy in a safe and controlled environment. It's a win-win situation for parents who want to enjoy a tasty meal while their children play.
Overall, Paris Banh Mi is an excellent option for a kid-friendly restaurant in Kalamazoo County. With its mouth watering food, cozy atmosphere, and play area for kids, it's a perfect place to visit with your family and friends.

Gull Lake Distilling
For a family-friendly dining experience that also caters to adults, head over to Gull Lake Distilling. Located in Galesburg, this craft distillery specializes in small-batch spirits, including vodka, gin, whiskey, and rum. But it's not just the drinks that draw families in; the tasting room is open seven days a week and features a full bar and food menu. On warmer days, guests can enjoy their craft cocktails or beer on the large outdoor patio, which is also suitable for kids. There's even a wall of board games to keep little ones entertained. If you're looking for a fun night out with friends, check out Thursday's Trivia at 7pm. With so much to offer, Gull Lake Distilling is the perfect kid-friendly restaurant in Kalamazoo County with a unique twist.

LFG Gaming Bar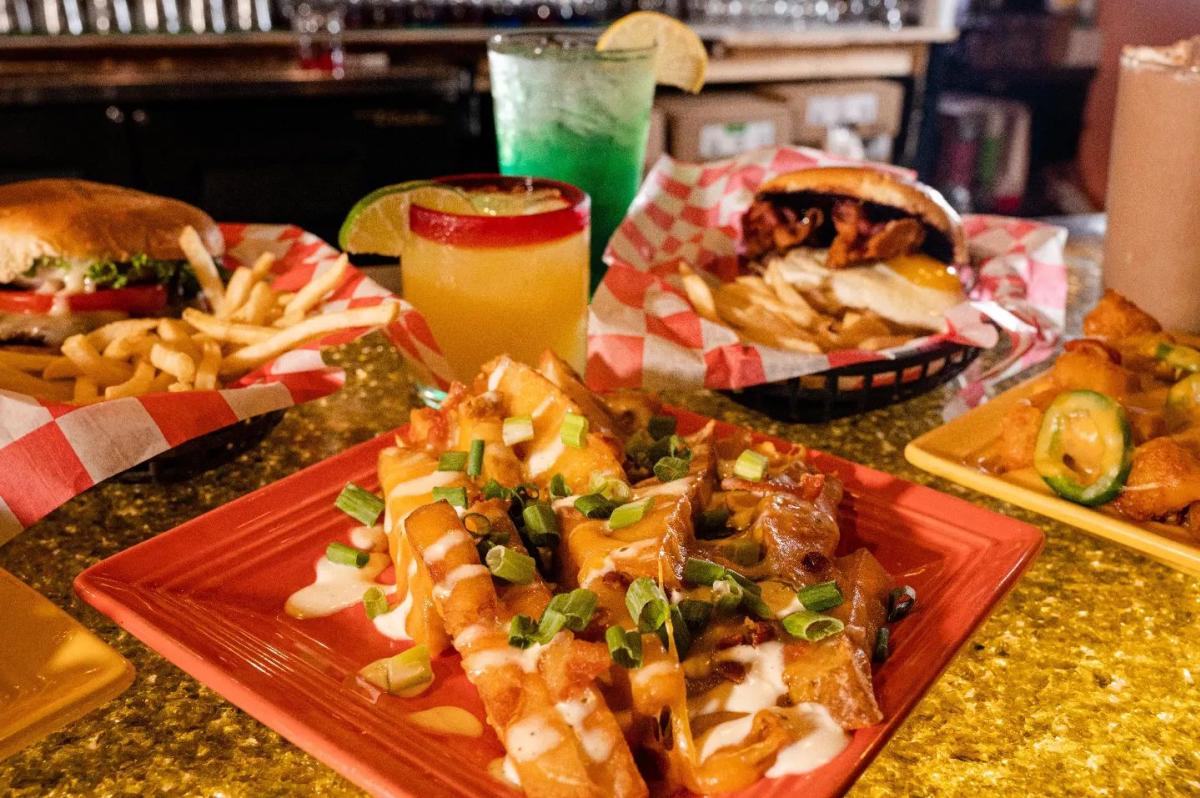 If you're looking for a kid-friendly restaurant in Kalamazoo with a unique dining experience for the whole family, LFG Gaming Bar in downtown Kalamazoo is the perfect spot. This retro arcade bar offers a fun atmosphere for parents and kids to create new memories by playing nostalgic games. Located near a movie theater, wine bar, brewery, and Bates Alley, LFG is an ideal spot for a night out with the family.
LFG offers specialized cocktails, a menu, board games, and cards, so you can relax and enjoy some food while playing. Every item purchased includes 4 tokens; most arcade machines take one token per play. This makes it easy to enjoy the games without worrying about running out of tokens.
LFG has various options if you're looking for menu items suitable for kids. Try their tasty mini corn dogs or loaded fries. For parents, the fun cocktail options are a must-try. The Super Mario Lemonade and Princess Peach Bellini are just two of the creative options on the menu.
In addition to the arcade games, LFG also offers game consoles such as the N64, PS2, GameCube, and Xbox. After your first purchase, these game consoles are free to play. So, LFG Gaming Bar is the perfect spot whether you're a family of gamers or just looking for a fun night out.
D'Nicios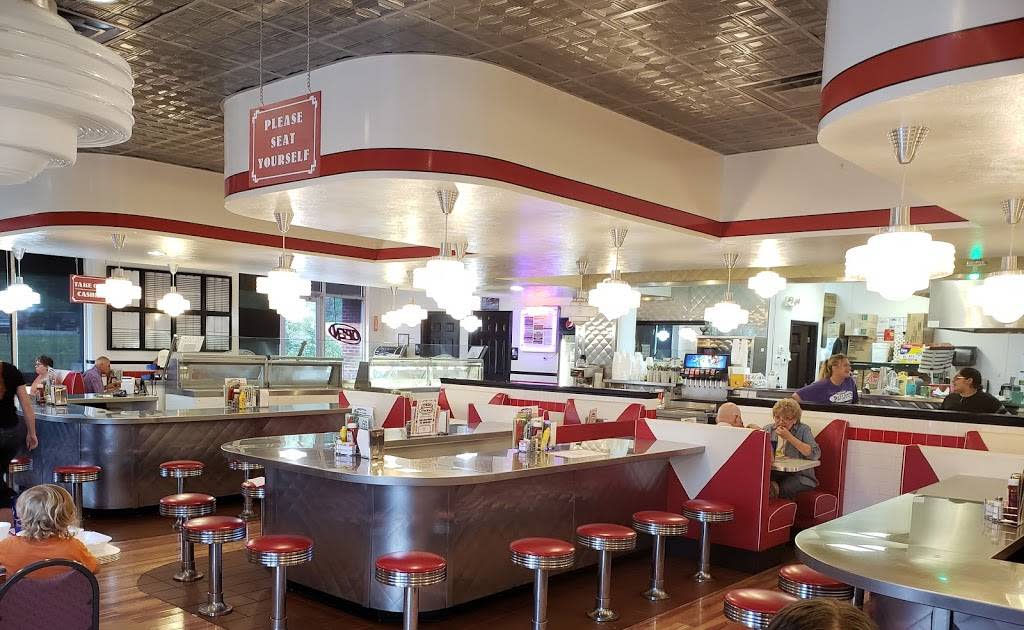 Located in Kalamazoo, D'nicios is a great spot for families looking for a relaxed dining experience. This kid-friendly restaurant offers a family-friendly atmosphere, welcoming staff, and a menu catering to kids and adults.
The menu at D'nicios offers various options, including pizzas, sandwiches, and salads, all made with fresh ingredients. The kids' menu features classic favorites like chicken tenders and mac and cheese but includes more adventurous options like shrimp and french fries.
Parents will appreciate the mix of classic American food like burgers, hot dogs, and sub sandwiches, and Greek specialties like Mousaka, Saganaki, Gyros, and more.
But perhaps the most exciting feature of D'nicios is the famous sundae challenge. Customers can attempt to finish a massive ice cream sundae loaded with toppings within 10 minutes to earn a spot on the restaurant's wall of fame. It's a fun activity for kids and adults alike.
Rollup Ice Cream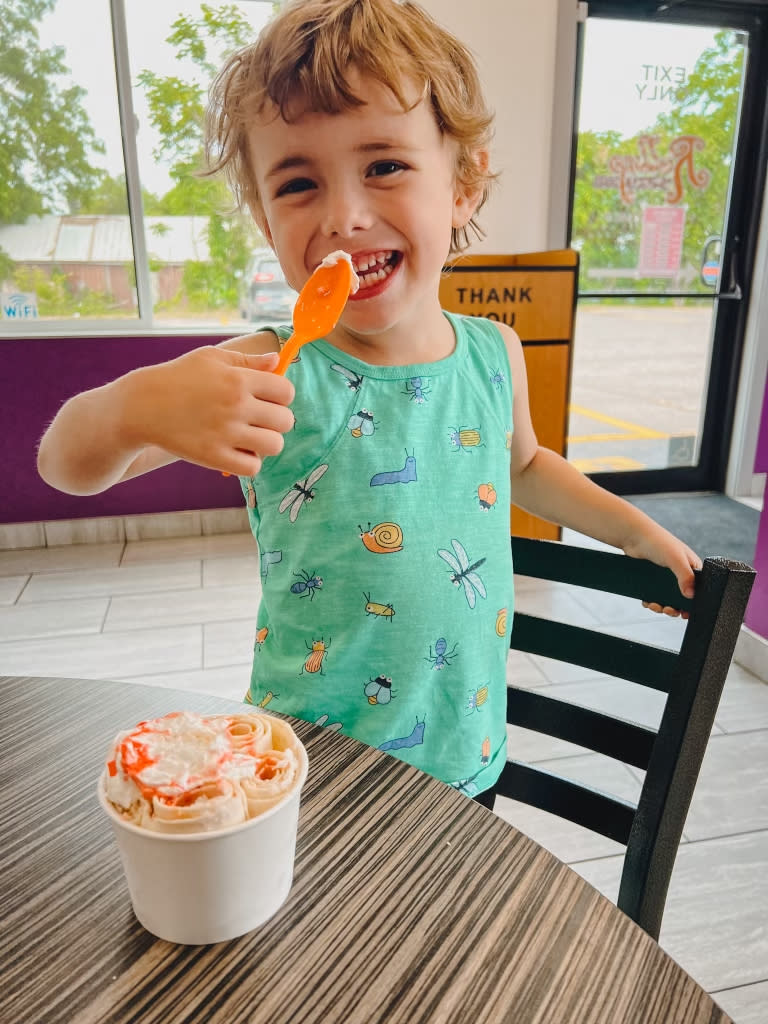 Roll Up Ice Cream is a unique and fun dessert experience for kids and families in Kalamazoo County. This dessert joint is known for its signature creations and custom Rollup Ice Cream treats. At Roll Up Ice Cream, the ice cream is handcrafted on a frozen metal surface, then rolled up to create the perfect, delicious bite-sized treats.
There is something for everyone in the family to enjoy at this kid-friendly restaurant. Along with the Rollup Ice Cream, there are Bubble Teas, Sandwiches, and Wraps to choose from. Roll Up Ice Cream is perfect for families and kids because it is a fun and interactive experience. Kids can watch as their ice cream is made right before them and customize their creations with their favorite toppings.
If you are looking for a fun and delicious dessert experience for your family in Kalamazoo County, Roll Up Ice Cream is worth checking out.
We can't wait for you to discover your new favorite family-friendly restaurant in Kalamazoo! With so many great places to eat, it will be hard not to love them all! If you are visiting on a weekend getaway in Michigan, these are great places to consider checking out while you plan your visit. If you need any other recommendations, check out our variety of trip itineraries or subscribe to our newsletter for the latest happenings. You can also download our guide for a complete list of resources and planning tips.