When you think of synchronized skating, glitz and glamour may come to mind, but behind the make up, costumes, and hairspray is the true blood, sweat, and tears that this sport entails.
From Learn To Skate USA programs, competition programs, and private lessons designed to provide the foundation skaters need to take their passion for skating to the next level, the Greater Kalamazoo Skating Association (GKSA) gives skaters the opportunity to earn college scholarships, skate in world-renowned competitions and entertainment programs. GKSA skaters have gone on to participate in the U.S. Special Olympics, Disney On Ice, Team USA and much more.
Although GKSA focuses on the development of youth skaters, the program has also given adults the opportunity to grow and continue embracing their passion for the sport.
In honor of Mother's Day, we will be introducing you to the three Mother Daughter Duos of Greater Kalamazoo Skating Association. Some of these mother's have been skating their entire life and some started alongside their daughters. Neither one of their stories are the same, but they all have one thing in common and that's their passion for the sport of synchronized skating and the lifelong memories, bonds, and opportunities that the sport has brought them.
Jennifer, Natalie, & Jordan Brenne
Jennifer is currently a synchronized skating coach in Kalamazoo, but her passion for synchro set in after watching the 1980 Olympics.
"The skater was Robin Cousins from GBR. I told my mom I wanted to do that. Later on in 1986, I was fortunate to be training at the Broadmoor World Arena in Colorado Springs. We performed our annual Pops On Ice and Robin Cousins was one of the guest stars. It was amazing to perform on the same ice as the gentleman who inspired me to start skating," says Jennifer.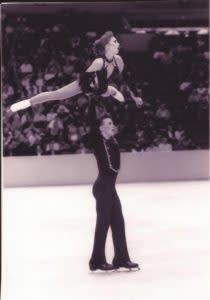 Jennifer went on to become a 4 time World Junior Team Member in Pairs Figure Skating and a 2 time World Jr Bronze Medalist (1990 & 91).  She was also the 1989 United States Figure Skating Junior Pairs Champion and represented the USA in 7 international events including 1991 Skate America International. 
"I also skated for the WMU Alumni team when we won the pewter medal at the US Synchronized Skating Championships in 2012. My daughters were there to watch!" 
Both Natalie and Jordan took after their mother and began skating at a young age.
"My daughters both started skating because they, quite literally, lived at the rink from the day they were born. Natalie was a little hesitant to start, but Jordan was on her first synchro team at 4 years old! They have since found a passion on their own for the sport," says Jennifer.
Jennifer and her daughters have put in the hours on and off the ice, preparing and traveling to competitions together, and growing together as a mother daughter team.
"Every experience we have together builds lifelong memories and a bond that not very many people have the luxury to have. I have watched my girls develop a great passion for skating and it makes my heart smile. When they ask... 'Mom, can we skate today?' or 'Mom, can I skate practice today?'  I am so thankful that they are learning such valuable life lessons, like determination, a good work ethic and discipline. They want to get better, but it's not because I have to make them, it's because they're choosing to work harder." 
Meghan & Ann Cook
  Meghan's passion for skating started at the age of 3 and eventually took her to Western Michigan University where she became a member of the first WMU synchronized skating team. She spent the next 5 years skating for the team and helped it become a varsity sport at WMU. She's now a member of the Kalamazoo Kinetic Masters team.
"My favorite part about synchronized skating is being a part of a team of women that have the same love for this sport that I do," says Meghan.
Ann started skating at the age of 3, the same age that her mother, Meghan started.
"This is a sport that is very physically demanding, more than you really think.  Even though it's very hard at times it's a very fun sport.  You will also make very good friendships," says Ann.
Over the past 10 years, Meghan has become the team mom, which allows her to be even more involved with her daughter Ann and her teammates.
"Ann has helped me to learn new things that I need help on. This sport is not the same sport it was when I was in collage. So much has changed and there are moves that we didn't have to do back then that are now standard for most teams to do at our level," says Meghan. 
Although Meghan and Ann both currently skate competitively, they normally aren't competing on the ice together at the same time,
"One of my favorite memories as a mother daughter team is when we had a few members from my team missing and Ann had to fill in for them during a practice so we got to skate next to each other that night."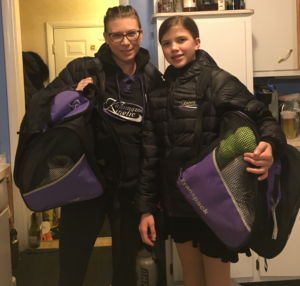 Photo taken the night Ann was filling in for missing members of the Masters Team.
Susan Reed & Maggie Letcher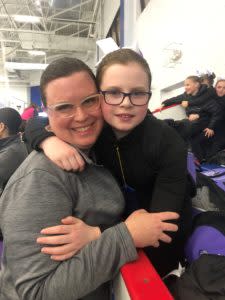 Growing up Susan loved skating outdoors, but never skated competitively. It wasn't until her daughter Maggie began synchronized skating that she decided to give it a shot as well.
"When Maggie was much younger and in the group lessons, adult lessons were also available at the same time.  So, I took them.  I saw that I was able to significantly improve my skating with instruction.  So, when the Open Masters team was announced, I made it my goal to improve enough to skate with the team.  My daughter was already very involved by then, so I figured, if I'm going to drive all around the Midwest for this, I might as well get to skate, too," says Susan. 
Some may enjoy the adrenaline of competing, the cheering of the crowd, or the way the skates carry you across the ice. For Susan, she uses skating as an escape.
"I have a very hard time clearing my mind to meditate or even just relax, but when I'm skating with the team, I have to be completely present and fully paying attention or I have no chance of not going down or taking someone else down with me.  So, for a full hour, I can really escape other pressures."
For Maggie, being a synchronized skater allows her to be a part of a team.
"It lets me connect more with other people in my club rather than just competing against them as an individual."
Since both Susan and Maggie skate competitively, they spend a lot of time traveling to competitions together which has given them the opportunity to create lifelong memories together.
"The first time our adult team competed at an away competition, all of the youth teams were in the audience and I was not prepared for how the kids would just go wild for us when we took the ice. I think it's really meaningful for them to see their coaches and parents out there still putting on those tights, dresses and enjoying the sport in our 30s, 40s, and 50s," says Susan.
Like many other team sports, synchronized skating takes every single skater to be successful.
"Focus on your skating skills.  People sometimes underestimate the skills required for synchro.  It doesn't work if you just go out there and do your own thing, you have to be conscious of everyone else out there," says Maggie.

 
The power of sport stretches far beyond the field, or in this case, ice.
It brings people together in unity, strengthens bonds, passion and commitment and connects us for life.  If you're interested in getting involved with the Greater Kalamazoo Skating Association, visit their website for more information.
Every year, the Greater Kalamazoo Skating Association hosts the Kick-Off Classic Synchronized Skating Competition at Wings Event Center. The event typically attracts more than 130 teams from around the Midwest and brings an estimated $2 million in economic impact annually to the Kalamazoo region. This year, the event will take place November 19-20, 2021.
GKSA will also be hosting U.S. Figure Skating's National Solo Dance Final on September 15-18, 2021 and the Midwest & Pacific Coast Synchronized Skating Sectional Championships on January 25-29, 2022; both events will be headquartered at Wings Event Center and Wings West Ice Arena.
To stay on top of these events, follow the Greater Kalamazoo Skating Association on Facebook.