In order of most combative, unapologetic, and thrilling sports, roller derby is tough to beat…
For those who haven't had the privilege of witnessing a roller derby competition, picture this; Laced up skates, knee pads, elbow pads, mouth guard and a helmet.
The skates are the purpose of the game and as they glide across the floor boards it almost sounds like a train blasting down the tracks, intense and fast. The knee pads, elbow pads, mouth guard and helmet, well… that's where the combative, unapologetic and thrill comes in. 
Lucky enough for us, Kalamazoo is home to both the Derby Darlins (adult team) and the Killer Beez (junior team). These teams are made up of some fierce individuals, and together they make for one heck of a squad.
Between the Kalamazoo Derby Darlins and Kalamazoo Killer Beez, there are 5 mother daughter duos. Could you imagine playing the same sport as your mom, or better yet… as your daughter? Now that's cool. 
We want to introduce these dynamic duos, explain how they became involved with roller derby, tell some of their favorite memories and even give some advice to other duos that are interested in taking up this extraordinary sport. 
If you're new to the roller derby world, don't worry. We've put together a glossary at the end of this blog of the derby terminology used, so that you can stay on track (no pun intended). 
FIRST ON THE LINE UP…  
Ickyy and Additude (Rachel and Adaline Yates)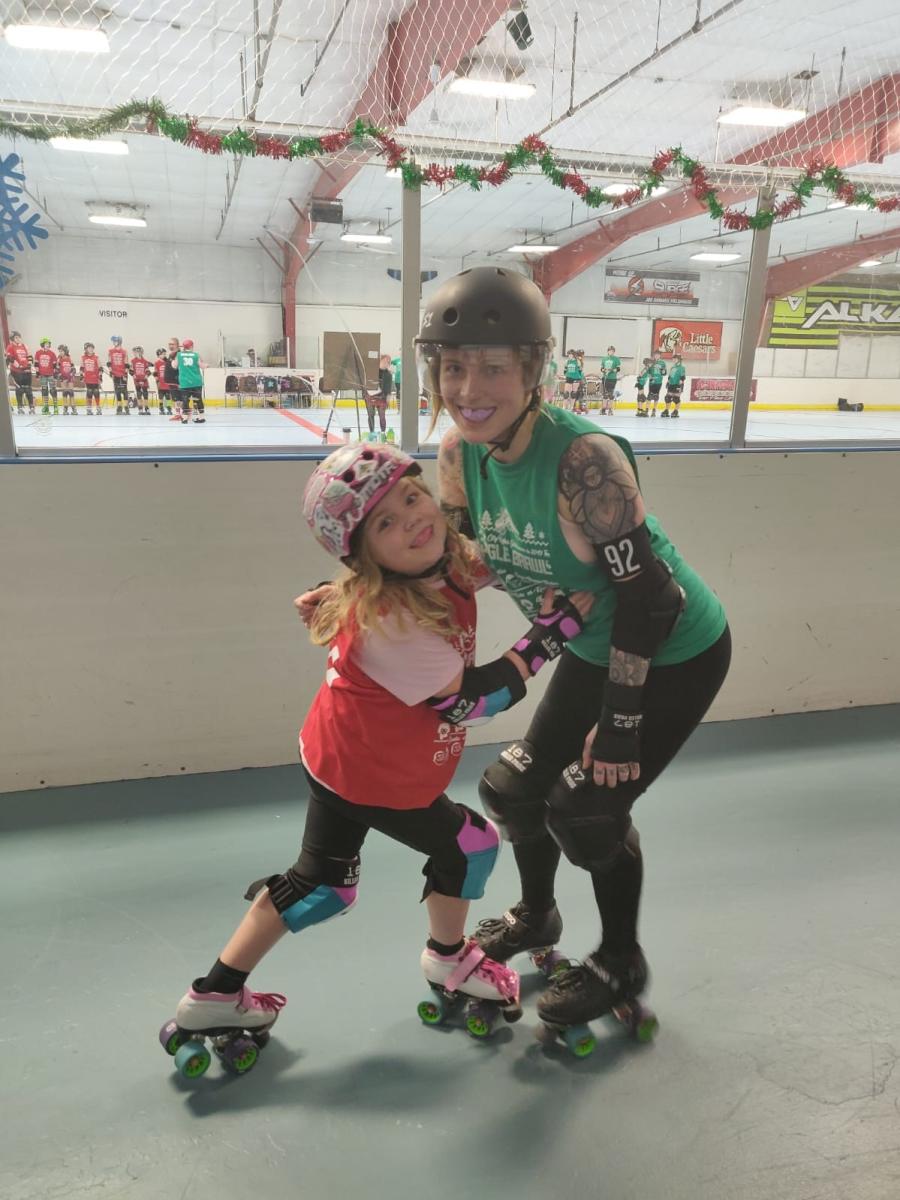 Additude started just over a year ago at age 6. Her mother Ickyy introduced her to the sport, 
"I came across a blog about it in middle school and was always super intrigued by it. I've wanted to pursue it for half my life but never felt that I'd be capable. The final push for me was seeing my daughter giving it her all and absolutely loving it." 
Ickyy and Additude are the newest to the mother daughter duos, but that hasn't stopped them from jumping right into the sport. 
"If she helps out at one of my practices, she doesn't let me get through. She makes me work for it but also helps me understand what I need to do," says Additude. 
"It's one thing to watch your kid experience something and fall in love with it. But it's a thousand times better when you're sharing that experience. We both joined in the same year and constantly share tips and discuss strategies. Being able to understand her love of derby because I'm in that same space, it's a beautiful thing," Ickyy said. 
Cutter and Triple Threat (Samantha and Brooke Strong)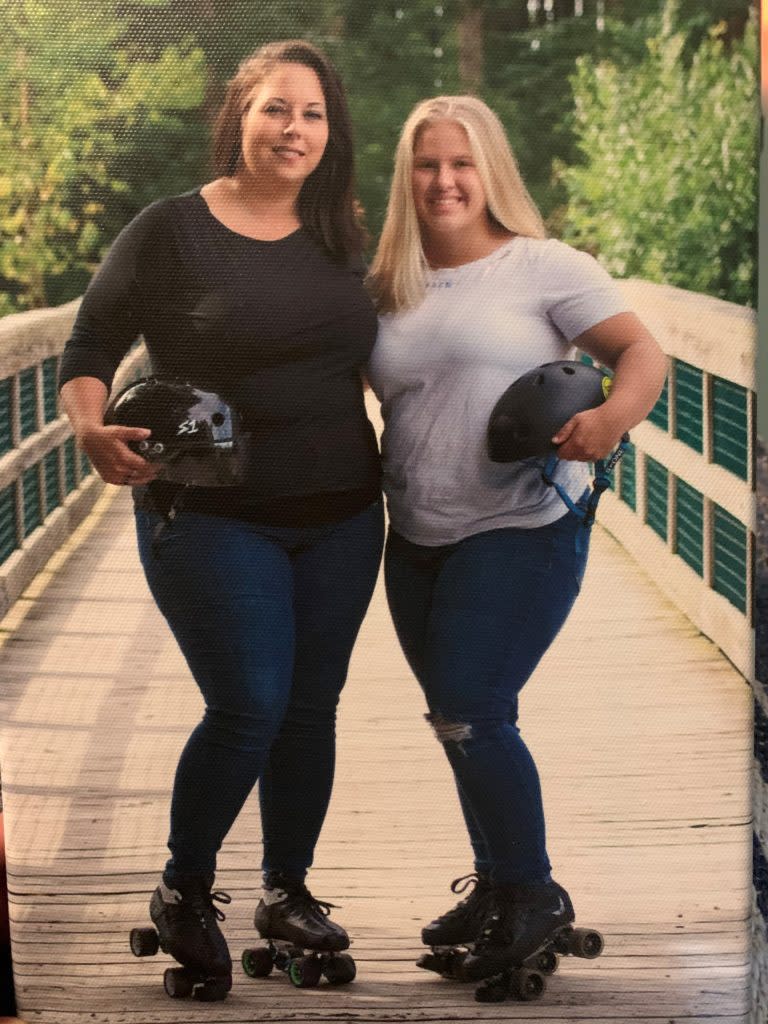 After watching her sister play for the Lakeshore Roller Derby team based out of Holland, MI, Cutter was hooked and she's been playing ever since. Her daughter Brooke joined the Kalamazoo Killer Beez in 2018. 
As a mother daughter duo, Cutter and Triple Threat enjoy that roller derby gives them the opportunity to travel together, both near and far. 
They traveled to Colorado in July 2019 for the Junior Roller Derby Association (JRDA) World Championship and to California earlier in the year for a weekend tournament. 
"My favorite roller derby memory as a mother daughter duo was traveling to Colorado for the JRDA World Championships," 
"Our trip to California was fun too, but that was with my dad and brothers," said Triple Threat. 
Most of us know them as game days, but in the roller derby world they're known as bout3 days. So we asked Cutter and Triple Threat what their bout day ritual as a mother daughter duo consisted of and here's what they said… 
"We take a selfie!"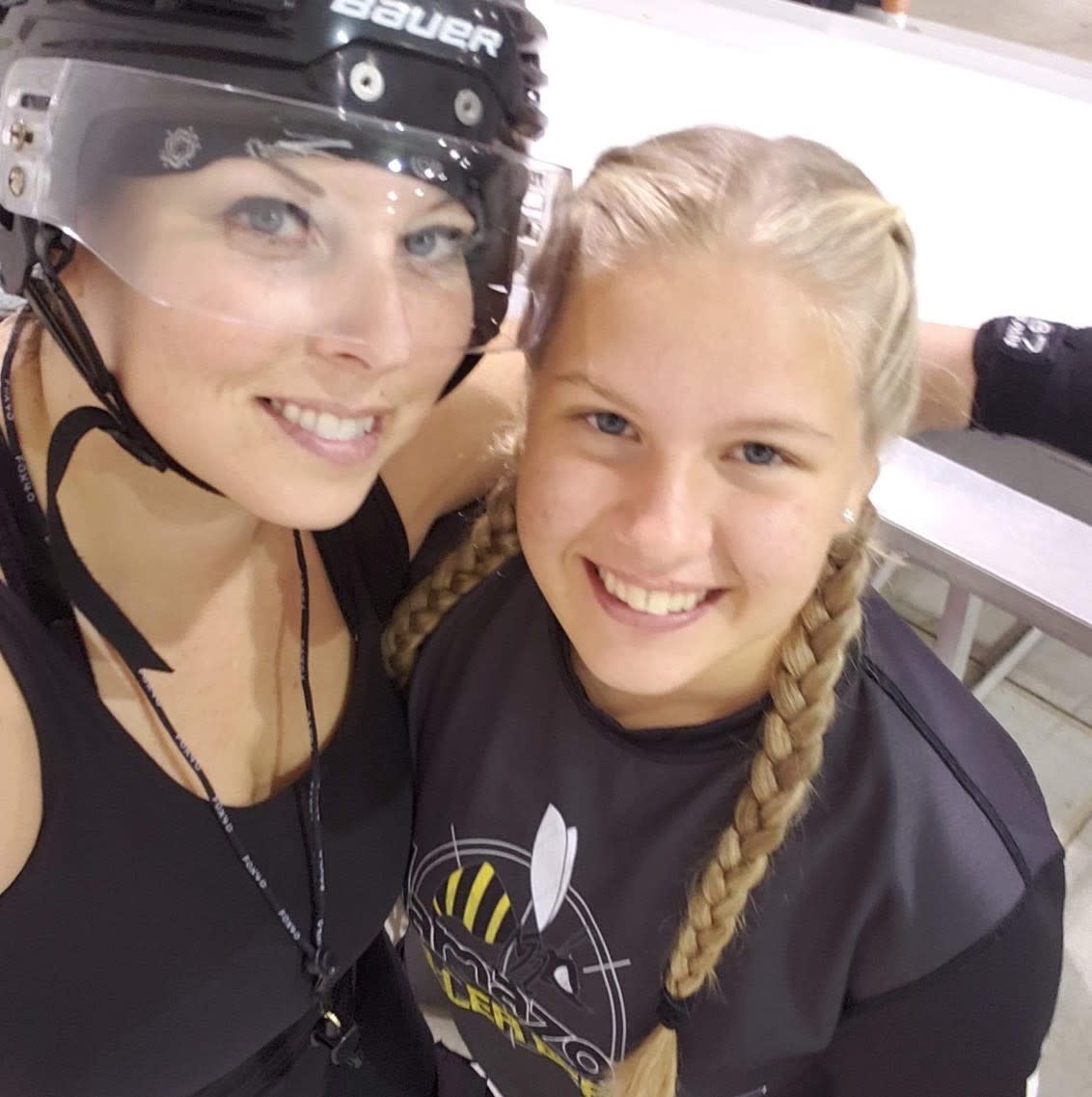 Princess Harming, Weers Waldo, and One Hit Wanda (Kim Weers, Victoria Weers, & Mackenzie Nicholls)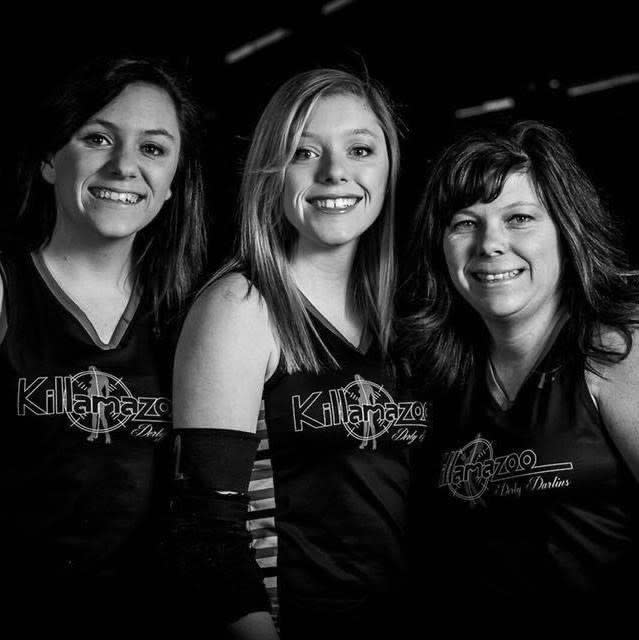 Mother of Weers Waldo and One Hit Wanda, Princess Harming was the first to jump on the roller derby wagon. 
"I started playing on a new team called the Renegade Rollergirls based out of Marshall, MI. It looked like fun and I was told I couldn't do it… so I did. Best decision I've ever made," says Princess Harming.
It was only one year later before her two daughters followed in her footsteps. 
In comparison to the other duos, these daughters have left the nest so roller derby practice also serves as a reunion for the fam. 
"After moving an hour away from my family, I love being able to see my mom and sister twice a week knowing that it's not just a quick five minute drive to their house anymore," said Weers Waldo. 
What's that saying… Age is just a number? Yeah, Princess Harming takes that statement and runs with it, or in other words rolls with it. 
"I love that I get to hang out with my girls and work and grow in the sport and that they don't mind playing with their mom. I am 47 and still feel young playing. It's great to have your kids support you on the track." 
Javelin and Mexican Takeout (Kristy and Sydney Howard)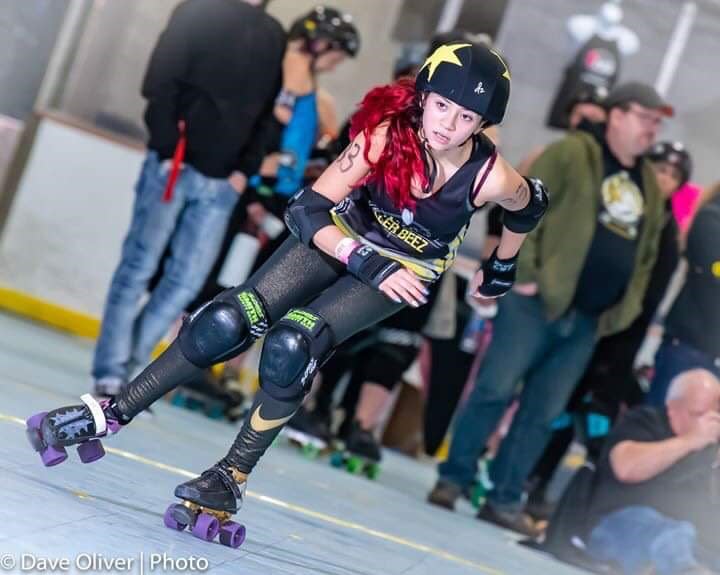 14 years ago, Javelin decided to move back to Michigan from sunny California with her 6 month old daughter. After settling in, she saw flyers about the Kalamazoo Roller Derby teams. She used to speed skate so she decided to give it a shot. 
"I needed to find a way to get in shape and be a part of something cool," said Javelin. 
Well… you did it, Javelin. Roller derby is way cool.
Mexican Takeout not only has the opportunity to play the same sport as her mother, but she also has the privilege of having her as a coach. 
"Being in the same sport and being one of the junior coaches has helped us grow. We can both relate to struggles and successes on the track. We're able to offer each other perspectives that the other might not have seen," says Javelin. 
This duo definitely has a different perspective than others and they may be bias but Javelin and Mexican Takeout both encourage any other duos that are on the fence about joining roller derby to go for it. 
"It's an amazing community and very different from Mainstream sports. It's a lot of work but well worth the effort." 
Beaver Jam, Bacon Bones, and Lala Whoopsie (Jania, Adrianna, and Ella Haskins)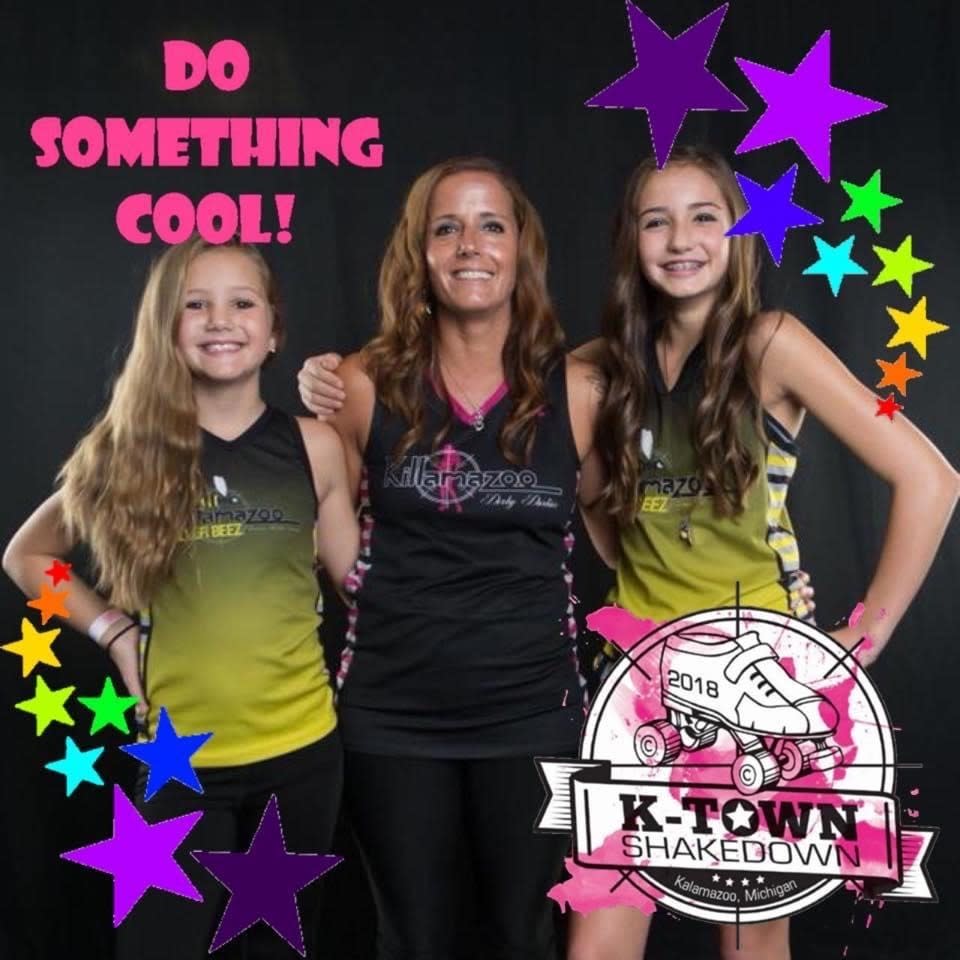 Beaver Jam became a Derby Darlin in 2013. Her daughter, Bacon Bones joined in 2017, followed by her youngest Lala Whoopsie in 2015. 
"I had been a stay at home mom for over 12 years. I needed to find a way to get out and meet people. I'm also a huge adrenaline junkie," says Beaver Jam.
"I wanted to join the sport because my mom had made so many good memories and good friends. I wanted to experience that too," says Lala Whoopsie. 
"I was really excited to be just like my mom on the track," said Adrianna. 
Most of these dynamic duos play on different teams which means when it comes time to scrimmage, it's mother vs. daughter or better yet, daughter vs. mother. 
"Something about being on that jam1 and track at the same time, it's such an overwhelming feeling of happiness. Even when your oldest lays you out or gets lead jam2 over you," says Beaver Jam. 
Sports bring people together, of all kinds, in collectivity, creating a space where everyone belongs. Roller derby is another incredible example of how sports are able to do just that. 
"It's like a big family. It's not just about the game. You build lifelong friendships. Someone will always be there if you need them. We take care of each other, always," 
"You are never judged in Derby. You can be who you want and I wanted that for my girls. I wanted them to find a way to be able to express themselves," said Beaver Jam.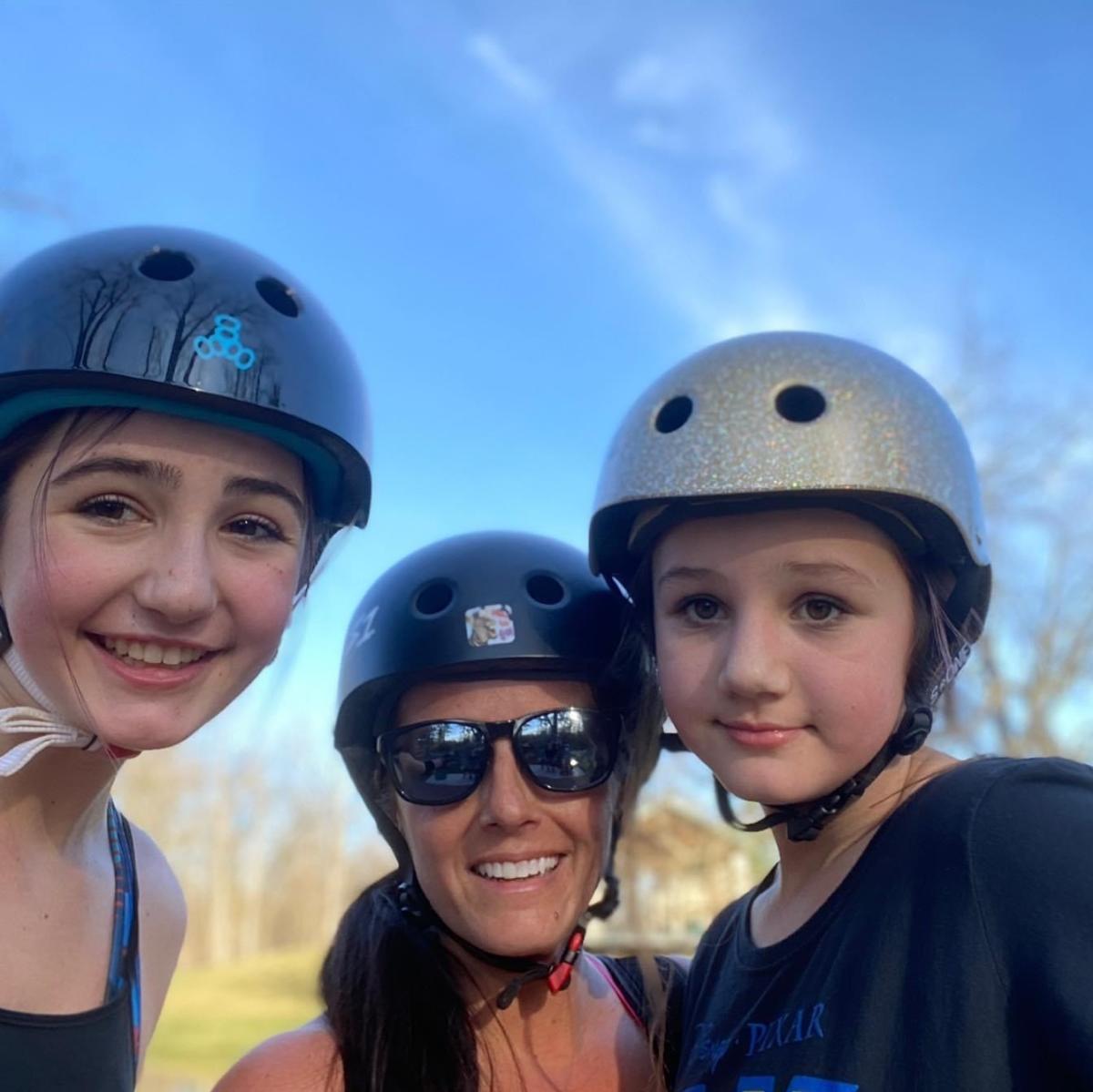 The power of sport stretches far beyond the field.
It brings people together in unity, strengthens bonds, passion and commitment and connects us for life.  If you're interested in getting involved with one of the Kalamazoo Roller Derby teams, visit their website for more information. 
Every year, the Kalamazoo Derby Darlins host their annual K-Town Shakedown event at Wings Event Center. Unfortunately this year's event has been cancelled due to the global health landscape. If you would like to support the Derby Darlins and show them some love, purchase a piece of their official merchandise. More information on how to do so can be found on their Facebook.
ROLLER DERBY TERMINOLOGY GLOSSARY
Jam – This is when the scoring action happens. A jam consists of a two-minute race period, could be less, if the lead jammer decides to call off the jam. There can be multiple jams in one bout.Lead Jammer – The first jammer to emerge from the pack. Jammers are recognizable by the star helmet cover.
Pack – The group of blockers skating around the track. It's the jammers goal to break through or get around the pack.
Bout – a roller derby "game" which lasts 60 minutes, divided into two 30 minute periods.
Calling off the jam – This call can only be made by the lead jammer by tapping her hands on her hips. If a lead jammer loses their advantage, the could call off the jam to avoid the other team's lead jammer from scoring.