Portage, MI – The Sangria Shop owner Fernando Costas is quick to point out the birthplace of pina colada: Puerto Rico.
Costas moved with his family from Puerto Rico to Portage in 2006 and launched their sangria business in 2012. A couple years later, the business expanded to a new space and started offering spirits, including a trio of popular options in lime vodka, orange vodka and coconut rum. It's the latter spirit that helps the pina coloda shine. But Costas, who is a chemical engineer at Pfizer when he's not running The Sangria Shop with his wife, Frances Vega, isn't willing to spill too many details about his popular drink.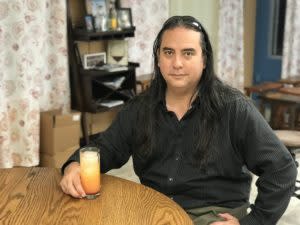 Fernando Costas, The Sangria Shop co-owner
Courtesy of John Liberty
"Pina Colada was invented in Puerto Rico and we make it the traditional way. I will not tell you the proportions, but we use 100 percent pineapple juice, coconut cream and then we spike it with our coconut rum. The proportions make the difference. And if it doesn't have coconut cream, it's not a pina colada," he says.
The Sangria Shop, 8842 Portage Road, will be participating in Kalamazoo Craft Beverage Week by serving its line of sangria with a Puerto Rican twist, its line of spirits and possibly some authentic cuisine, including rice with pigeon peas, roast pork and pastellas. 
Pastellas are similar in appearance to tamales. Costsas says he usually uses yucca root, plantains and pork as the filling. It's then wrapped in banana leaves and boiled or baked.
Another popular cocktail is the Sunrise or Sunset (pictured above). Costas pours layers of pineapple juice, coconut rum and grenadine and serves it with a large ice ball to resemble a sunset or sunrise.
For more information, go to www.thesangriashop.com or call 269-532-1629.