Experience exciting new flavors at distilleries and cocktail bars throughout Kalamazoo, discover the popular Downtown Social District, or attend one of the many tastings, happy hours or special events. Read on for our guide to Kalamazoo's craft cocktail scene, then head to our events calendar to help you plan your next trip or night out.
600 Kitchen & Bar
Real food, by real people. 600 Kitchen & Bar sources their bread, dairy, produce and meat from Michigan farmers and artisans whenever possible. Located in downtown Kalamazoo's River Edge district on the northwest corner of The Foundry building, it features a diverse menu that honors both people and tradition.
The restaurant is part of a 52,000-square-foot creative incubator with office space and event areas that help breathe new life and energy into a historic space that was once a gray-iron foundry built around 1905.
We recommend ordering the Limoncello Spritz - made with limoncello, brut and lemon zest - or the Pinky Up - made with Reyka Vodka, fresh lime juice, Triple Sec and raspberry liqueur.
Cove Lakeside Bistro
Cove is a lakeside culinary retreat in Portage, where you can enjoy fresh and local fare alongside handcrafted cocktails and gorgeous views of West Lake. They're open for both brunch, lunch and dinner, and offer a variety of specials weekly.
We recommend trying are the Mockingbird - made with Camarena Blanco Tequila, Aperol, rosemary simple syrup, grapefruit juice and lime juice - or the Skeleton Key - made with Buffalo Trace Bourbon, elderflower liqueur, lemon juice, ginger beer and a dash of bitters.
Crafted Copper
Crafted Copper's
uniquely sophisticated atmosphere is a one-of-a-kind space to enjoy delicious handcrafted cocktails and spirits. Each of their crafted drinks is an exclusive spin on a classic favorite, creating a menu you won't find anywhere else. They also offer delicious small-plate food options and a relaxing and modern restaurant space to enjoy conversation.
Dabney & Co. - Cocktail Bar and Lounge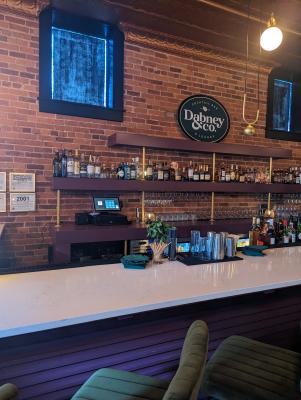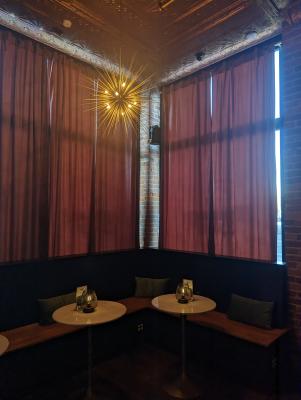 Dabney & Co., the only Black-owned and operated cocktail lounge, is an elegant, moody space where patrons will indulge in fresh, hand-crafted beverages and savor classic soul food with a unique spin, served á la carte. All are welcome to enjoy live, curated entertainment like powerful soul musicians. The music is invigorating, even on the nights there isn't a performer, with the smooth, soothing harmonies of jazz, soul, funk, disco, hip-hop and R&B classics. Led by the dynamic motto "Liberation Through Spirits," the establishment pays homage to the hardworking Black mixologists and service staff who went unrecognized and without thanks throughout history. The heritage and history are discreet yet bold, woven within the establishment's design. Even its name, Dabney & Co. honors a once-enslaved John Dabney, the first renowned Black bartender who was credited with crafting "hail-storm" mint juleps.  
Green Door Distilling
Green Door Distilling was founded in 2014 and was the first distillery to open in Kalamazoo since 1858. With a focus on bringing people together, their award-winning products have been and continue to be creatively crafted to invite spirit connoisseurs and newcomers alike to share in their ongoing adventure of refining the craft spirit industry. 
You can take a tour of the distillery for just $20, which includes a comprehensive walk through of the facility, information about the process of distilling, and a flight of spirits that you can enjoy inside our redesigned Tasting Room or while playing cornhole outdoors when the weather is good.
Green Door Distilling has seasonal cocktail menus featuring their delicious craft spirits. Come regularly to try the new, mixologist-designed cocktails! If you are apprehensive about trying something new, we recommend starting with a flight to help decide which GDD spirit you like best. 
Gull Lake Distilling Company is a family-owned, locally-sourced craft Distillery, Brewery, and Winery located in Galesburg!  They have corn hole leagues every Wednesday, trivia on Thursday and every Sunday you can enjoy Bloody Mary's and Brunch with The Kitchen at Avalon Farms food truck!
Their full drink menu includes everything from the classics like Mojitos, Old Fashioned's, Manhattan, etc., to hard seltzers, beer, and of course, their signature craft cocktails!
We recommend trying the Maple Mitten - made with Apple Brandy, apple cider, barrel-aged maple syrup, orange bitters and ginger ale - or the Spicy B - made with Spiced Rum peach, jalapeno and honey.
While Latitude 42 is one of Kalamazoo's most well-known breweries, their cocktail menu and offerings are truly unique and just as delicious!
We recommend trying either the Prickly Pear Micharita - made with L42 Vodka, Prickly Pear Puree, lemon juice, lime juice, orange juice, Himalayan pink salt rim, garnished with a lime - or the Traverse City Cherry Bomb - made with L42 Bourbon, Smoked Black Cherry Syrup, Michigan Cherries and lemon.
Old Burdick's takes pride in crafting delicious meals and cocktails with fresh ingredients. While their true claim to fame is the amazing variety of local craft beers they offer on tap, their cocktails are just as unique and delicious.
You can expect everything from frozen tropical-themed drinks and margaritas to sangria, Bloody Mary's and even spiked hot chocolate in the winter months!
We recommend ordering the Snow Monkey - made with Malibu rRum, Frangelico, butterscotch schnapps, piña colada mix and pineapple juice - or the Violet Beauregarde - made with Green Door Botanical Gin, Green Door Blueberry Liquor, simple syrup and fresh lemon juice.
Principle Food & Drink features craft cocktails and scratch made cuisine in a casual yet elegant vintage atmosphere. The Principle kitchen presents an array of 'medium' plates, comprised primarily of ingredients sourced within 50 miles of Kalamazoo.
One of their most popular and raved about cocktails is the Smoked Sazerac - made with Bulleit Rye Whiskey, Demerara syrup, absinthe mist, Peychauds and anise smoke.
South Kitchen is a southern inspired restaurant with coastal cuisine located on beautiful Gull Lake. While they offer an extensive wine list and beer options too, their craft cocktails steal the show!
We recommend trying the Spicy Sailor Punch - made with Sailor Jerry Spiced Rum, Strawberry, Cinnamon and Vanilla, topped with Ginger Ale!
Find artisanal cocktails at places like the Stamped Robin. Most of their cocktails include only three ingredients, which makes every drink simply delicious. The experience is enhanced by high quality ingredients and knowledgeable mixologists.
Along with their cocktails, you'll find both wine and beer on tap, as well as a small menu of appetizers and desserts. Their little garden patio is located in the middle of downtown Kalamazoo and is open 'til midnight Tuesday-Saturday!
We recommend ordering the Buck 75- made with Tito's Vodka, Ramazzotti Aperitivo, ginger spiced honey, lemon & sparkling brut - or the Rum & 'Choke - made with New Holland Freshwater Rum, Cynar, Amaro Lucano, Allspice Dram & Topo Chico.
Table of Contents is a full service bookstore cafe, where the food and the drinks are literary inspired! You can order drinks with names like Una Rosita by Any Other Name - made with gin and house-made rose syrup - or Once Again to Zelda - made with gin and house-made and clove syrup.
Water Street believes that specialty coffee and hand-made food is both science and art, and they tinker until it's perfect. Join the thousands of people who connect over full-flavored, Kalamazoo-roasted coffee and hand-made food every day.
When the studying and work has ended for the day, you can sit back, relax, and catch up with friends over a refreshing cocktail, smooth glass of wine, or cool local beer!
Try the Hibiscus Twist - made with Tito's Vodka, lemon juice, freshly brewed Hibiscus Rooibos Iced Tea, and Lavender Syrup - made in house using locally grown lavender from Shades of Lavender Farm in Mattawan, Michigan.