When it comes to sports event planning, Kalamazoo has earned a reputation as the perfect host for sports events of all sizes. Similar to our name, we like to embrace and bring to life the unconventional and eccentric sports throughout our community and esports has taken off full speed. With the addition of new venues, varsity level esports opportunities, and increased interest across our region, Kalamazoo is the perfect host for your next esports event. That's not all though... There are many other reasons why Kalamazoo should be the next destination to host your esports event. Check them out!
1. We have the perfect venue for you
Western Michigan University's Esports Arena is home to WMU's Varsity Esports Team and is one of the very few esports arenas in Michigan to provide space for practice, tournament play and professional production all in one location. The state-of-the-art facility offers 36 gaming machines, of which 12 are competition computers, set in front of a 190-seat auditorium.
Also located on Western Michigan University's campus is Miller Auditorium, the third largest theatre in Michigan with seating for 3,497. Currently, Miller Auditorium is home to the College of Fine Arts, hosts concerts, Broadway shows, graduations and conferences.
If you're looking for a larger space for your event, Wings Event Center could be the space for you. With a total of 3-NHL sized hockey rinks (17,000 square feet) under one roof with various capacities and seating accommodations to meet your needs. Their largest arena has permeant seating for 5,113 and a max capacity of 6,400. Wings Event Center is home to ECHL team, the Kalamazoo Wings, but they also host a variety of sports events, conferences, concerts, and much more throughout the year.
2. Location, Location, Location
Kalamazoo is located in the heart of the Great Lakes region, midway between Detroit and Chicago. Giving you, your attendees the perfect opportunity to drive-in, fly-in or travel to Pure Michigan before or after the event.
The Kalamazoo/Battle Creek International Airport is serviced by American and Delta Airlines. All jet service to major hub cities of Chicago, Detroit, and Minneapolis.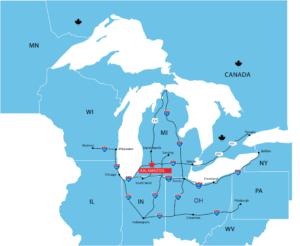 3. We're a big fish in a small pond - Your event won't go unnoticed
The sports community in Kalamazoo is unlike any other. Between our dedicated staff at Discover Kalamazoo Sports, our community partners, local organizing committees and university, your event couldn't be in better hands. We will make your event our number one priority so that your event provides a memorable experience for your staff, players, families, and spectators.
 

View this post on Instagram

 
4. Our World-Class Attractions & Restaurants
Just like we have a competition venue for you, we also have world-class attractions and restaurants for everyone to enjoy. Whether you're a craft beer enthusiast, coffee lover, a shop till you dropper, someone that connects with nature, or you're looking for entertainment options after the final competition of the day – Kalamazoo is the place for you.
5. All Hands on Deck
At Discover Kalamazoo, we're able to offer the following complimentary services: bid proposals + site selection, referrals + recommendations, economic impact calculator, promotional assistance, event housing management, visitor information, VIP welcome amenities, volunteer assistance and much more.
Are you looking for the home of your next esports event? Reach out to our Discover Kalamazoo Sports Team to discuss the endless opportunities that Kalamazoo can offer you and your event attendees!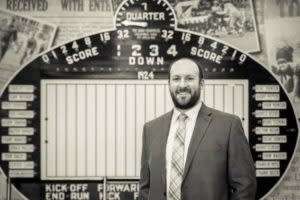 Brian Persky
Director of Sports Event Development
bpersky@discoverkalamazoo.com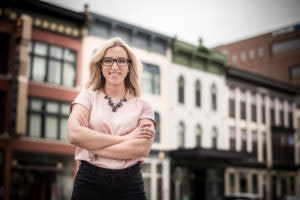 Madysen Stoneman
Sports Event Development Manager
mstoneman@discoverkalamazoo.com
For more information on Discover Kalamazoo Sports and how we could assist with you with your event, click here.