Kalamazoo is a city rich in Black culture, heritage and history. A significant piece of that story is rooted in the experiences of the city's Black business owners and entrepreneurs.
It's important for our visitors and locals to hear their stories, support their visions, buy their products and share them with others, so that we can help empower and uplift our BIPOC (Black, Indigenous and People of Color) community.
We've highlighted a few of Kalamazoo's creative and innovative Black owned and operated businesses below but you can learn about even more by visiting the Black Business Directory on Black Wall Street Kalamazoo's website.
(Hero Image photo credit: Brian McIntosh)
Food & Drink
Founder Toya Williams started Aunt Nay's Cookies and Treats in honor of her mother, to create and share some of her mother's homemade recipes. Her ingredients are the key and are sourced throughout the country as well as internationally. Her goal is to warm one soul at a time with her baking! Toya was recently named the 2023 winner of the Catalyst University Makers' Mart.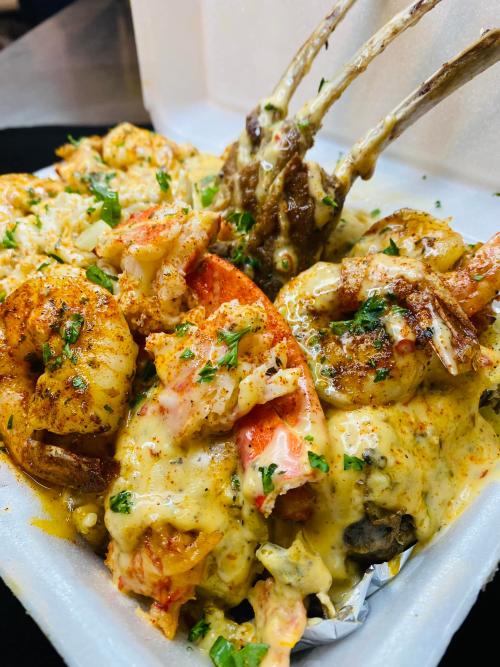 Cookie's is the number one place to go in Kalamazoo if you're craving authentic hot and fresh comfort food! While they're well-known for their burgers, some of their other unique menu offerings - like the Maple Pecan Chicken-n-Waffles, the Fried Catfish, Lobster Rolls or the famous family recipe Power Punch - are unlike anything else that you'll find in Kalamazoo.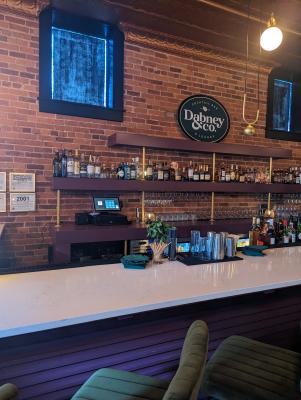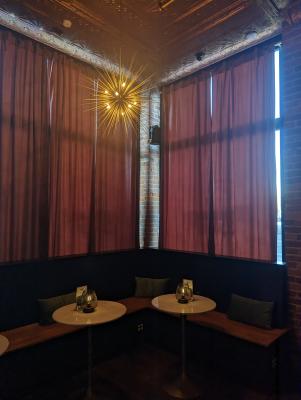 Dabney & Co., the only Black-owned and operated cocktail lounge, is an elegant, moody space where patrons will indulge in fresh, hand-crafted beverages and savor classic soul food with a unique spin, served á la carte. All are welcome to enjoy live, curated entertainment like powerful soul musicians. The music is invigorating, even on the nights there isn't a performer, with the smooth, soothing harmonies of jazz, soul, funk, disco, hip-hop and R&B classics. Led by the dynamic motto "Liberation Through Spirits," the establishment pays homage to the hardworking Black mixologists and service staff who went unrecognized and without thanks throughout history. The heritage and history are discreet yet bold, woven within the establishment's design. Even its name, Dabney & Co. honors a once-enslaved John Dabney, the first renowned Black bartender who was credited with crafting "hail-storm" mint juleps.  
Founder of the Roché Collection, Nicole Triplett is Michigan's first Black female licensed winemaker. She opened a tasting room in the Washington Square neighborhood of Kalamazoo that features private tastings, open air outdoor seating, personal virtual sommelier service, custom wine cocktails and slushies. Read more here about visiting Twine Urban Winery!
Just a couple storefronts down from Twine Urban Winery in the Edison Neighborhood, enjoy soul food at Ty's Joint. Tyrone Griffis and his cousin Nikki McKnight serve up sumptuous portions of Southern-friend chicken wings, jumbo shrimp, perch, catfish, pork and lambchops along with sides like mac and cheese, fried okra, candied yams and more. Chicken and waffles are a popular menu item and can be served plain, strawberry shortcake style, or peach cobbler style.
Retail
"Kalamagonia loves Kalamazoo. Kalamagonia was born in Kalamazoo. Kalamagonia is fun."
Michael Beyene is the owner of Kalamagonia. He graduated from Michigan State University's Game Design and Development program and is currently teaching 3D Art at Kalamazoo Valley Community College.
When it came to starting Kalamagonia, he took his love of design, branding and Kalamazoo to create designs that are fun to wear and celebrate Kzoo! He aims to dress those who love our city and wants to let the world know, there really is a Kalamazoo.
You can find Kalamagonia apparel at various spots around town such as Factory Coffee and RIO in Kalamazoo, Centre Street Spa and Wellness in Portage, and of course, on his website.

Men's fashion clothing store located downtown on the Kalamazoo Mall with over 22 years in the business. Mr. C's Perfect Tie & Accessories carries all types of men's business and dress suits, shirts, ties, and has one of the largest selection of men's hats in Southwest Michigan. They also specialize in custom suit orders.
For years, Valencia Scott suffered from dry skin on her lips. Her answer to solve the problem? A homemade exfoliant. She took matters into her own hands and developed a simple, yet effective recipe that helped combat her dry skin, without being too abrasive.
Creativity took over, inspiring her to jazz up her recipe by blending in organic oils, testing different formulations and even consulting with pharmaceutical experts. This ultimately yielded her first signature product, The Perfect Pucker Lip Exfoliant. It wasn't long before customers started requesting additional skincare products.
Since then, The Perfect Pucker has expanded its line to include products for both women and men, including lip balms, hand lotions, beard oils and more! All paraben-free and dye-free and never tested on animals. Even better, everything is handmade in Kalamazoo!
Purchase The Perfect Pucker products directly from her website.
Arts and Entertainment
"Turn up" and take a Twerk Werk class with founder Kim Guess. If you're new to Twerk Werk, it's a form of hip hop cardio that gets you moving while having fun and dancing to the latest hip hop and R&B tracks. You can also try Twerk and Tone classes and Trap Yoga. Guess Who's Dancing Fitness holds classes at The Xperience by LuXury Escapes, a venue in downtown Kalamazoo.
Soul Artistry was founded by Yolanda Lavender, a national recording artist, singer/songwriter, composer, and performing artist from Kalamazoo. Soul Artistry specializes in curating, artistry development, artistic provision, and arts. Many events are curated and organized by Soul Artistry which also owns and operates The Space to showcase artist events, exhibits, live music, pop up shops, and more.
The Xperience became the first Black-owned multi use entertainment venue when it opened in 2022 in downtown Kalamazoo. The luxurious space allows clients to create the perfect space for weddings, reunions, corporate events, classes and more. Planning is a breeze with The Xperience since it's a one stop shop event venue with many curated local vendors to choose from including caterers, DJ's, and event designers. The Xperience also hosts several events open to the public for music and dancing nights, pairing dinners, and dance fitness classes.