Black history and culture are a vital part of Kalamazoo's past, present and future. Residents and visitors to Kalamazoo can take advantage of a number of opportunities to celebrate and discover Black history and culture all year round at some of our museums, attractions and organizations that offer concerts, exhibitions, workshops and more.
Visitors can also check out and support Kalamazoo's stellar array of Black owned-and-operated businesses by visiting the directory at Black Wall Street Kalamazoo.
Exhibits & Attractions
Black Wings: American Dreams of Flight
Created by the Smithsonian, this amazing exhibit chronicles African Americans' substantial contributions to aerospace and aviation. Learn about this powerful group of aviation pioneers who challenged obstacles and created their own legacy in the world of flight.
The dreams of flight, freedom, and the view from above inspired by the Wright brothers were not segregated, but for almost 50 years after they took to the skies, the paths to the training and expertise necessary to become a pilot were.

In the 1920s, for example, C. Alfred Anderson, who later became the owner of the Tuskegee Institute Flying School, was denied admission to any of the existing aeronautical schools and instead was forced to purchase his own plane.

The enormous impediments black aviators overcame and the important contributions they went on to make should be shared as widely as possible. Black Wings: American Dreams of Flight charts the groundbreaking, history-making, and patriotic paths of some very valiant men and women. This group of aviators is extraordinary. From Bessie Coleman securing a pilot's license, through the Tuskegee Airmen and the integration of our armed forces, to Guy Bluford in space, the exhibition and its related content reveal a moving adventure and spirit of path-finding.

Other scholarship and exhibition projects have explored African American aviation pioneers and their efforts to gain recognition as pilots. The tale of their struggles typically culminates in a commemoration of the Tuskegee Airmen and their heroics during the Second World War. Black Wings follows the same narrative arc but uses the Tuskegee Airmen as a jumping off point to tell the untold story of African American aviation in the last 65 years.

The content of the exhibition is based on the book of the same title by National Air and Space Museum curator, Von Hardesty. The show covers significant figures, events, and themes associated with African Americans in aviation and aerospace history. It documents the struggles of those individuals who were systematically barred from the ranks of military and civil aviation, and highlights the parallels between the struggles of these aviation pioneers and those of the civil rights movement. 

Among other topics, the exhibition explores black aviation firsts, barnstormers, aerobatics, long distance flights, the Tuskegee Airmen, integration of the U.S. Armed Services, the Vietnam and Korean conflicts, commercial aviation, and the involvement of African Americans in the space program.

Tuskegee Airmen

Black Wings Show (Smithsonian Channel)

This exhibition toured from 2011-2016 and was then given to the Air Zoo as a permanent exhibit in 2018.
Green Book Exhibit
No doubt many people first learned of the Green Book in August, 2015 when The New York Times did a feature story about the book, or seeing previews for the upcoming film, Green Book. However, visitors to the Gilmore Car Museum in Hickory Corners, Michigan have been exposed to the book and its role on black travel since late in 2014 when the museum opened its Green Book exhibit.

The exhibit includes the life-like museum figures of a mother and daughter and a two-tone 1948 Buick sedan parked at an Esso filing station. Information panels provide details, a large video plays interviews with African-Americans who experienced discrimination while traveling and a copy of the Spring 1956 edition of a Green Book is there for museum visitors to examine.

"It's a story that had been pretty much forgotten," said museum spokesperson Jay Follis. "We've had a tremendous number of people seeing it and saying, 'I've never heard of this'."

Victor Hugo Green was a native of Hackensack, New Jersey and a mail carrier in New York City. His wife was from Virginia and as they traveled to visit family, they encountered Jim Crow restrictions. A Jewish friend showed Green a guidebook used to avoid "gentile-only" establishments and Green started his Green Book. He enlisted mail carriers across the country to help him compile and update the listings.

There's a reason the gas station in the Gilmore museum diorama has an Esso pump. Esso was a brand of John D. Rockefeller's Standard Oil Company.

Follis explained that Esso had a program to help African-Americans buy and operate its service stations. Esso also provided offices and support for the staff that helped Green produce and publish his guides.

Rockefeller was married to Laura "Cettie" Spelman, a daughter of abolitionists. The Spelman home had been part of the Underground Railroad. Atlanta Baptist Female Seminary, founded late in the 19th century to educate young black women, would become Spelman Seminary and later Spelman College in honor of Cettie's family's work and contributions.
Filling in the Gaps: The Art of Murphy Darden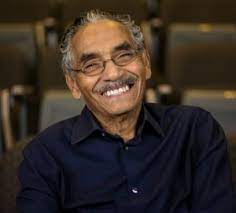 For the past several decades, Kalamazoo resident and nonagenarian Murphy Darden has indulged his passion for teaching others about histories which have long been ignored in classrooms and in public discourse. He has accomplished this through the amassment of endless artifacts, images and historic documents chronicling the achievements of African Americans. From America's Black cowboys and astronauts to its first female millionaire, his collections also recount local events, individuals and landmarks that would otherwise have been lost to time.

However, not all history can be adequately represented through the artifacts which bear witness to events. Sometimes, the richest and most complicated stories are better interpreted through artistic expression. It was in these situations, where parts of the story were missing, that Darden created hundreds of artworks to fill in the gaps.
The Black Arts and Cultural Center features new exhibits each month in the Gail Snydor Gallery with an opening event at the start of each month. In honor of the founding members, BACC exhibits artwork that inspire artists, expose the community to culture and introduce new artworks to Kalamazoo. Check out their list of upcoming events here.
Dr. Nathan Thomas House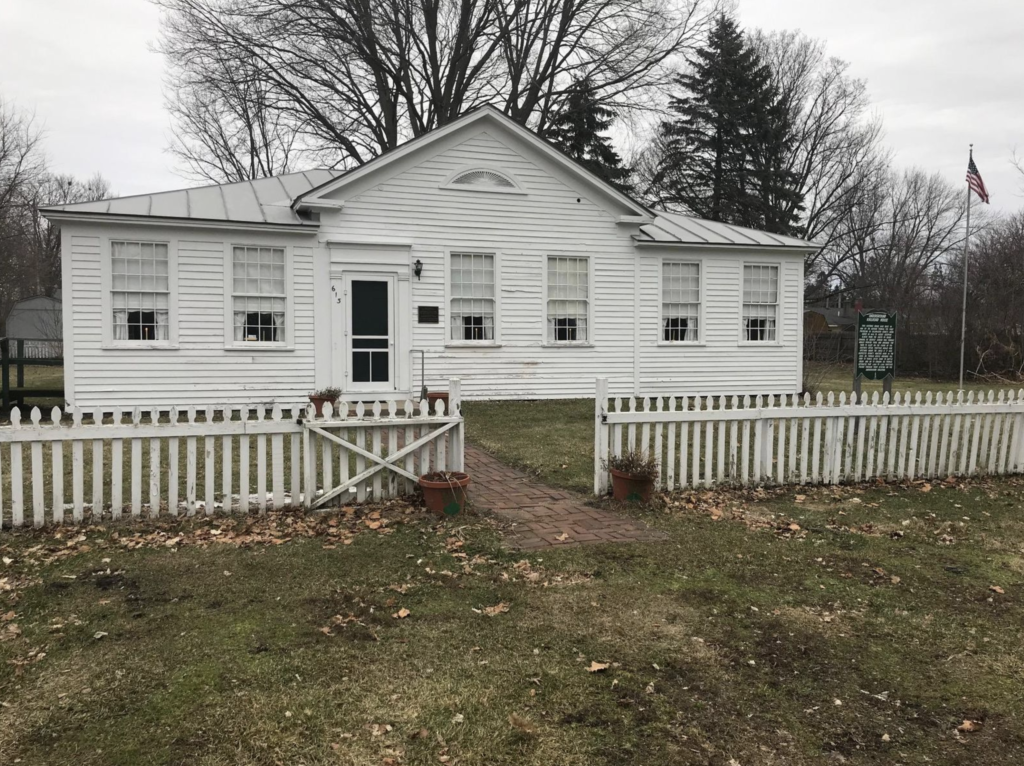 The Dr. Nathan Thomas House, built in 1835, was the home of one of Michigan's most active Underground Railroad participants, a founding member of the state's Republican Party and Kalamazoo County's first physician.

In 1835, he constructed a building that served as both an office and residence. Five years later he enlarged the house when he married Pamela Brown of nearby Prairie Ronde township. Pamela Brown Thomas' memoirs, written in 1892, provide much information on her and her husband's Underground Railroad activities. Referring to Dr. Thomas' early days in Schoolcraft, before their marriage and the construction of his office and residence in 1835, Mrs. Thomas wrote, "His antislavery views were so well known, that, while he was a bachelor boarding at the hotel, fugitives from slavery had called on him for assistance and protection."

Pamela Brown Thomas estimated that between 1840 and 1860 she and her husband helped between 1,000 to 1,500 fugitive slaves escape into freedom. By the mid-1840s, a group of abolitionists in southwest Michigan had created an organized system for transporting fugitive slaves. Slaves were often brought to the Thomas House by Zachariah Shugart, a fellow Quaker living on Young's Prairie, Cass County. Dr. Thomas would then shuttle the runaways to Erastus Hussey, another fellow Quaker living in Battle Creek.

The slaves would eventually make their way to Detroit and onto freedom in Canada. The first physician in Kalamazoo County, Dr. Thomas not only practiced medicine but also became involved in state politics. In 1837, he was one of 400 residents in Prairie Ronde and Brady (now Schoolcraft) townships who petitioned Congress in opposition to the annexation of Texas because of the territory's support of slavery.

Two years later, he joined others in founding a Michigan newspaper devoted to the antislavery cause and in 1845 ran unsuccessfully as Lt. Governor on the abolitionist Liberty Party ticket. A key participant in an 1854 antislavery convention in Jackson, Michigan, Dr. Thomas was a nominating committee member of the newly-formed Michigan Republican party. The party ticket triumphed that year, beginning a period of Republican domination of the state government.

The Dr. Nathan Thomas House is located at 613 East Cass Street in Schoolcraft, Michigan. Tours are available by appointment by writing to: Schoolcraft Historical Society, P.O. Box 638, Schoolcraft, Michigan 49087.
Face Off Theatre Company
 

 

 

View this post on Instagram

 

 
Black Arts and Cultural Center (BACC) produces theater through the expertise of resident Face Off Theatre Company.  Face Off Theatre Company aims to present audiences with fresh and innovative pieces of drama, as well as, classic works that are inspirational, entertaining, and thought provoking. The theatre aims to create transcendent theatre art that explores the complexity and richness of the black experience and encourages cross cultural dialogue that illuminates and expands our understanding of the universal human experience.
The theme for the 2023 season is Stronger Together where Face Off Theatre will show four mainstage productions that highlight how communal strength and support transcends challenges like generational curses, oppression, bigotry, and harmful institutions. Check out the full season here.
Artists of Color Network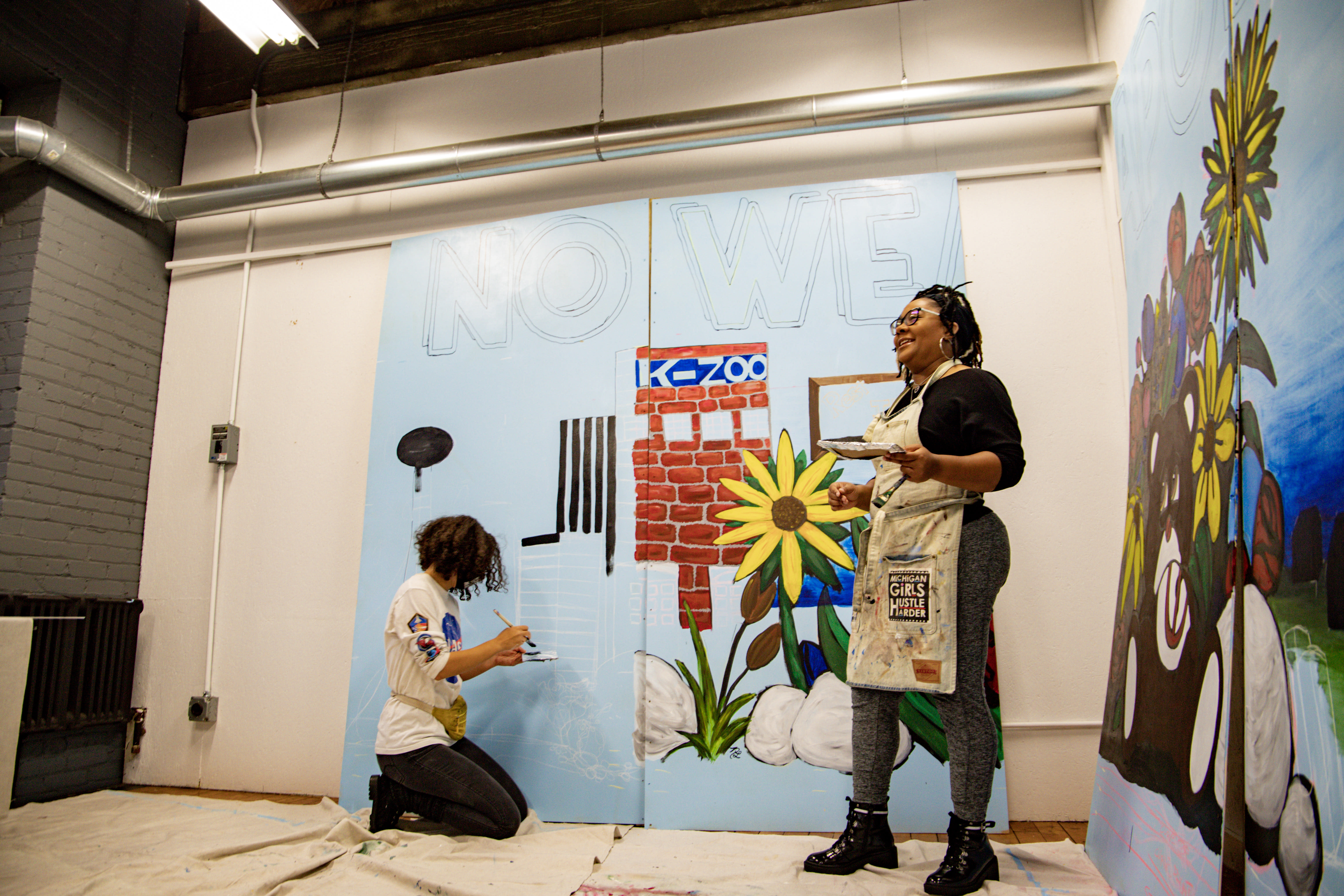 Founded by Nicole Lee, Artists of Color Network was created to provide a networking platform for artists of color. Nicole owns Royal Expectations, which teaches skills to youth about the athletic apparel industry. One of Kalamazoo's newest murals is an artistic collaboration among members of Artists of Color that is centered around a message of peace. Learn more about this mural project here.
In 2021, Discover Kalamazoo partnered with Artists of Color and Kalamazoo Public Schools to mentor a group of 4-6th graders in completing a mural designed by Dream Scene Placemaking. The mural is located Downtown Kalamazoo on South Street on the Epic Center parking garage.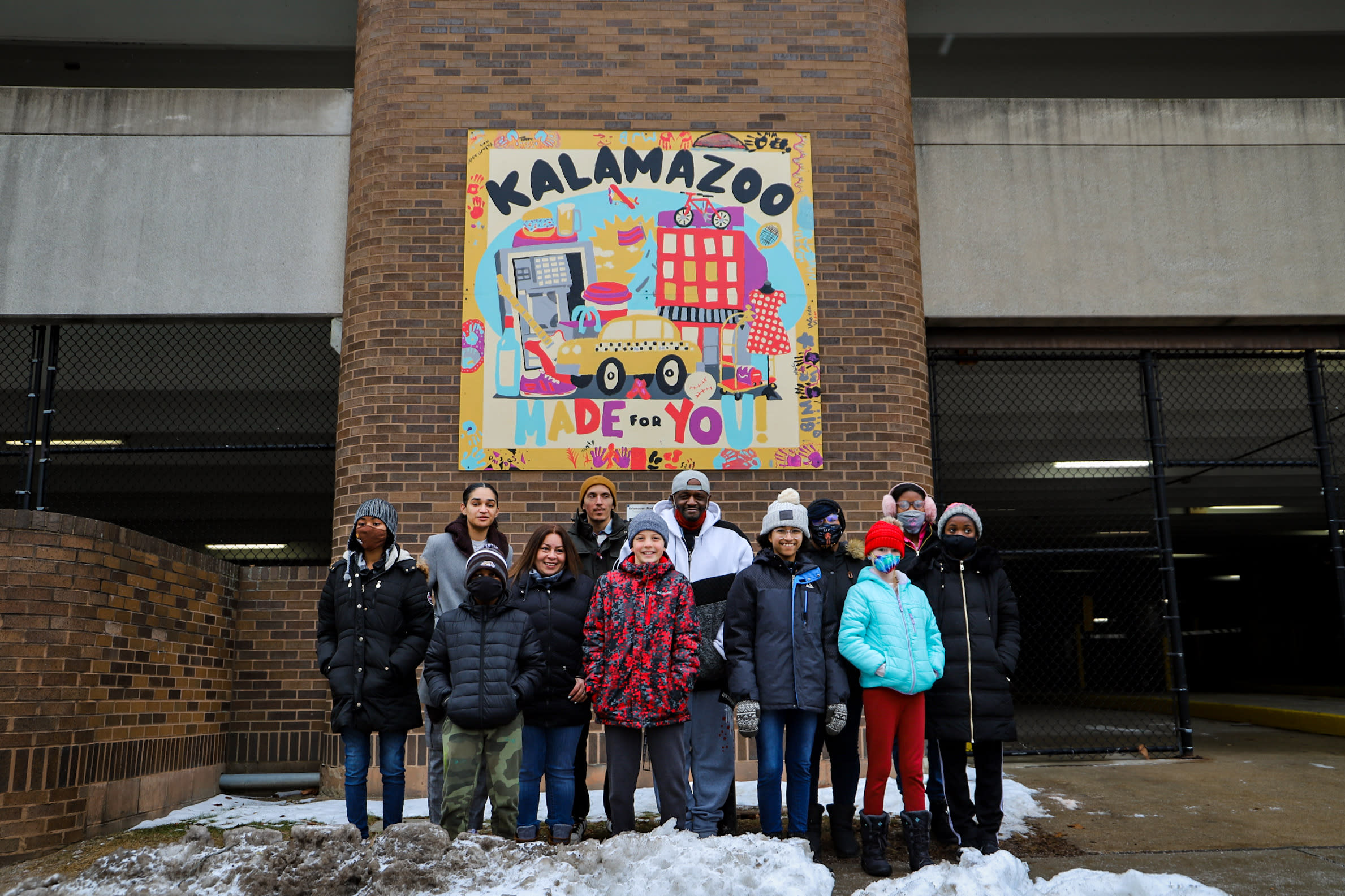 Local History
For more on local Black History, the Kalamazoo Public Library has a gathering of online resources here including the story of the Black Lives Matter street mural that was created in downtown Kalamazoo on June 19, 2020.