Galesburg, MI — Cranberries, cream, cinnamon and a little warmth.
Those are just a few of the attributes we seek in a cocktail during the holiday season, or winter for that matter.
At Gull Lake Distilling Co., which opened in March, 2020, the team has established a relatively new list of winter cocktails using its in-house gin, vodka, whiskey and brandy and more.
Without giving away all their secrets, here are several seasonal craft cocktails to enjoy in the coming weeks. And don't forget, the distillery also produces its own beer and features a massive outdoor garden.
Also, this list only scratches the surface. GLDC also serves spiked hot cocoa and a slew of hot toddy options. Most cocktails range from $8 to $10 apiece.
For more updates, check out the company's website or call 269-200-5329.
WINTER COCKTAILS
The Grinch (photo above)
About: This is a mean one, as it were. Rum, coconut and a cherry on top make this cocktail pop visually. 
Fireside Chat
About: Maple syrup and bourbon steal the show on this cozy cocktail with hints of fruit.
Ugly Sweater
About: If you want to add a little spice in your winter warmer drink, veer toward this vodka-led option. A pair of fresh jalapeño slices add a fun kick.
Hot Buttered Rum
About: Spiced rum, cream and hot butter batter are served warm in coffee mug.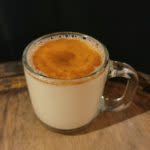 Hot Buttered Rum Courtesy of Gull Lake Distilling Co.
The Vixen
About: Satisfy your sweet tooth with this decadent bourbon drink — a balanced dance of vanilla, brown sugar, cinnamon and a touch of half-and-half.
Cranberry Mule
About: This winter spin on the vodka mule will find you bobbing for fresh cranberries to the end of the drink.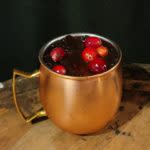 Cranberry Mule  Courtesy of Gull Lake Distilling Co.