KALAMAZOO, MI – The first community in Michigan to host a "Beer Week" celebrating its craft beer culture will toast to a decade in January.
Kalamazoo Beer Week will be held Jan. 11-18 with a variety of new and unique events as well as some fan favorites for the beer-loving traveler and local alike. The weeklong program will feature new beer releases, food pairings, meet-and-greet opportunities, behind-the-scene glimpses, recreational activities and more.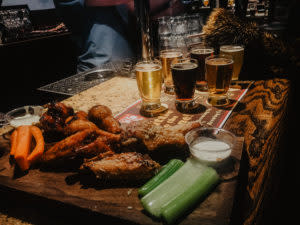 "For the past ten years, we have seen significant growth in the craft beer industry throughout the Kalamazoo region.  From support of the annual celebration of Kalamazoo Beer Week to the launch of the Give-A-Craft ® Beer Trail, Discover Kalamazoo has invested in the promotion of craft beer as one of many reasons to discover Kalamazoo," Discover Kalamazoo President and CEO Greg Ayers said. "We are excited to be the presenting sponsor of this annual event."
One of the other highlights of this year's events will be the introduction of a digital presentation of Discover Kalamazoo's popular "Give A Craft® Beer Trail" program where visitors receive a reward for visiting at local breweries. Launched to coincide with Beer Week, the digital passport will allow visitors to check in on their mobile devices to receive the reward.
Discover Kalamazoo took over management of the event from Imperial Beverage in recent years and continues to promote the events around the region. Among the more popular events offered at Kalamazoo Beer Week are: Bell's Brewery's Snow Jog; Tibbs Brewing Co.'s CANtucky Derby; beer dinners; specialty tappings and many others.
Kalamazoo Beer Week was imported here by local distributor Imperial Beverage in 2011 and inspired by a similar concept held in Philadelphia. Imperial Beverage, fronted by the Cekola family, had been named Craft Beer Distributor of the Year by the Brewers Association in 2010 and decided a "Beer Week" would be an appropriate way to celebrate the title.
The annual event expanded after 2011 to include more area distributors and local breweries, as well as nontraditional venues. Other communities around the state have replicated the program. In previous years, Kalamazoo Beer Week featured more than 250 events.
For more information and to see a list of constantly-updated events, go online at www.kalamazoobeerweek.com, or follow the Facebook page.