Kalamazoo, MI — If you don't want to contend with massive crowds and are finished using Amazon for the holiday season, consider shopping the independent retailers in Downtown Kalamazoo.
If you're having trouble figuring out what to purchase, there's always Downtown Dollars, which gives the recipient the ability to spend the money at bars, restaurants, retailers and experiences. But, if you need a few beverage-centric gift ideas in preparation for Kalamazoo Craft Beverage Week, running Jan. 29 through Feb., 6, the stores along The Kalamazoo Mall are dotted with drinkware, coasters, shirts and more.
Don't forget, downtown Kalamazoo has its own social district, meaning you can purchase a to-go drink from participating bars/restaurants and consume it in designated zones while you shop (most retailers allow the drinks indoors, too!). 
Here are a few fun beverage-related from Downtown Kalamazoo retailers we've spotted recently:

Kalamazoo & Michigan-related coasters
Where: Earthly Delights at Amy Zane, 132 S Kalamazoo Mall, 269-459-1409
What: These sturdy coasters from the Detroit Coaster Co. come in dozens of options, including city-specific designs, sports teams, Michigan landmarks and more. Regardless of what the person on your list likes, you'll probably find a coaster that hits the mark.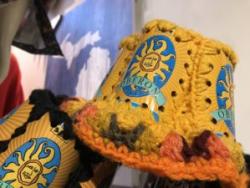 Michigan beer can hats
Where: Lana's Boutique, 124 S Kalamazoo Mall, 269-345-3302
What: Utilizing old beer cans, this winter gear is fairly popular at Michigan beer festivals. We're told these were handmade by the mother of the owner, Lana Hoffman, who owns another store in St. Joseph. 
Petoskey Stone Wine Stoppers
Where: Earthly Delights at Amy Zane, 132 S Kalamazoo Mall, 269-459-1409
What: For the wine fanatic in your life, add a dash of Michigan to their drinking experience with these Petoskey Stone Wine Stoppers. 
Insulated drinkware
Where: Earthly Delights at Amy Zane and Lana's Boutique
What: Whether its wine, mixed cocktails or cans and bottles of beer, we're always looking to keep that beverage just a bit colder a bit longer. We spotted several variations from well-known manufacturers, including BruMate and Corkcicle. There were even a couple options at Amy Zane's store featuring the city of Kalamazoo map (see photo at right).
'Drink Local' hats
Where: Spirit of Kalamazoo, 154 S Kalamazoo Mall, 269-382-6249
What: With walls filled with Michigan and Kalamazoo apparel, you might miss all the drink-related items toward the back of The Spirit of Kalamazoo. The downtown retailer features pints glasses, wine glasses, shot glasses, signs and shirts. One of our favorites: the Drink Local trucker hat with the state of Michigan on it.
You'll want to explore all over downtown, as there are several other retailers who may carry some funky gift ideas, too. Happy holidays and cheers!