Kalamazoo, MI – One of the newest participants in Kalamazoo Craft Beverage Week has more than a lot on their plate.
Sarah and Ben Martin, owners of Soil Friends in Augusta, run the 22-acre vegetable farm and market in Galesburg, where they also produce a line of hard ciders. The farm started in 2014 and, two years later, the hard cider wing was formed. Soil Friends Hard Cider Co. started self distributing its variety of canned hard ciders toward the end of 2021.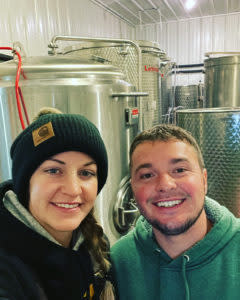 Sarah and Ben Martin
The cider is produced and canned on the farm and the couple make up the sales force. The ciders are made with all Michigan ingredients and the cans promote supporting local farmers.
Soil Friends cans have started popping up on grocery store shelves across the region. In addition to raising their four kids, the Martins also decided to renovate the market space – just in time for Kalamazoo Craft Beverage Week, which continues through Feb. 6.
Soil Friends will be holding a chocolate and cider pairing event and showcasing the new space on Saturday.
"Over the past couple of years we knew we wanted a comfortable place for people to be able to enjoy our farm market while drinking hard cider," Ben Martin said. "We have a couple of great friends — Steve Deiterman with Hometown Pools and Chris Crooksman with Crooksman Landscape Service — who helped create these beautiful renovations. All materials are recycled wood and over 100-year-old barn beams with travertine countertops. These guys are amazing and somehow only took a month to put this project together."
You can try the hard cider and chocolate pairing while exploroig the space and farm from noon to 7 p.m. on Saturday, Feb. 5 at Soil Friends, 1701 N. 33rd St. Soil Friends have several hard ciders in distribution, including Strawberry-Blueberry, Strawberry Hops, Honey Apple and Blueberry Lavender. You can also order the ciders online.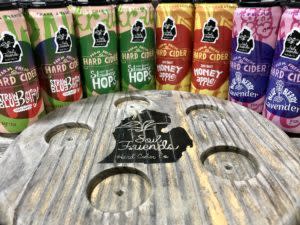 Courtesy of John Liberty
In early January, the indoor space was filled with materials for the build-out. In short order, the space transformed into an agricultural hideaway hangout.
"We were stunned watching the project unfold. It is better than we ever imagined and are beyond grateful for the beautiful work they did! The materials were bought without a plan and they were able to use what we had to put this space together. We are excited to share this space with the community and enjoy each other's company," said Martin, who graduated from Western Michigan University in 2014. "Our plans for this space are for people to be able to warm up and enjoy our hard cider when the weather isn't so nice. We are also willing to rent out the space for get-togethers. Our farm is licensed to be able to walk around 10 acres when you're feeling up to it while drinking a cider."
You can read more about the Martins in this story from Encore Magazine.
For more information about Soil Friends, call 269-330-0168 or email them at sales@soilfriends.com.