At Discover Kalamazoo, our first priority is the safety of our residents and visitors. As our reopening process has rolled out – we have implemented health & safety guidelines you can find here. Although things may not be the way we're used to — Kalamazoo is still the perfect getaway to reconnect and rejuvenate.  Here are a few ways to enjoy Kalamazoo while practicing social distancing.
With the summer season here, what better way to reconnect than with refreshing water activities? Kalamazoo offers a large variety of bodies of lakes and rivers
surrounding the county community.
Pack your swimsuit and head to the refreshing waters that surround Kalamazoo for a day of relaxing kayaking, canoeing and paddle boarding! Here are a few places to check out for your next Kalamazoo relaxation getaway – or check out the full list of places to explore water trails.
Ramona Park located on Long Lake offers kayaks, canoes & paddleboard rentals for $12 for the first hour – and $5 for every hour after that. The beaches are open daily from 10am to 6pm. This park is perfect for families and has plenty to do. With basketball and volleyball courts, soccer field, playground, plus more! This park is fully-staffed with a lifeguard on duty making it the perfect place for a family day!
If you already have your favorite spot picked out — Third Coast Paddling & Surf Shop allows rentals for you to explore any body of water at your own pace. The staff is fully trained and offer and orientation before you hit the water!
Ready to explore the Thronapple River? U-Rent-Em Canoe Livery offers canoe, kayak rentals. They even offer tube rentals which means you can sit back, relax, and enjoy the sunshine while cruising down the river.
Planning on bringing the whole family? Plainwell Kayak Company is perfect for beginners and young children. Chose from two trip options; a 1-hour trip from Plainwell or a 3-hour trip from D Avenue to Plainwell. On your journey, search for the many animals, birds, and turtles to see on the way!
ENJOY YOUR MEAL WHILE SOAKING UP THE SUN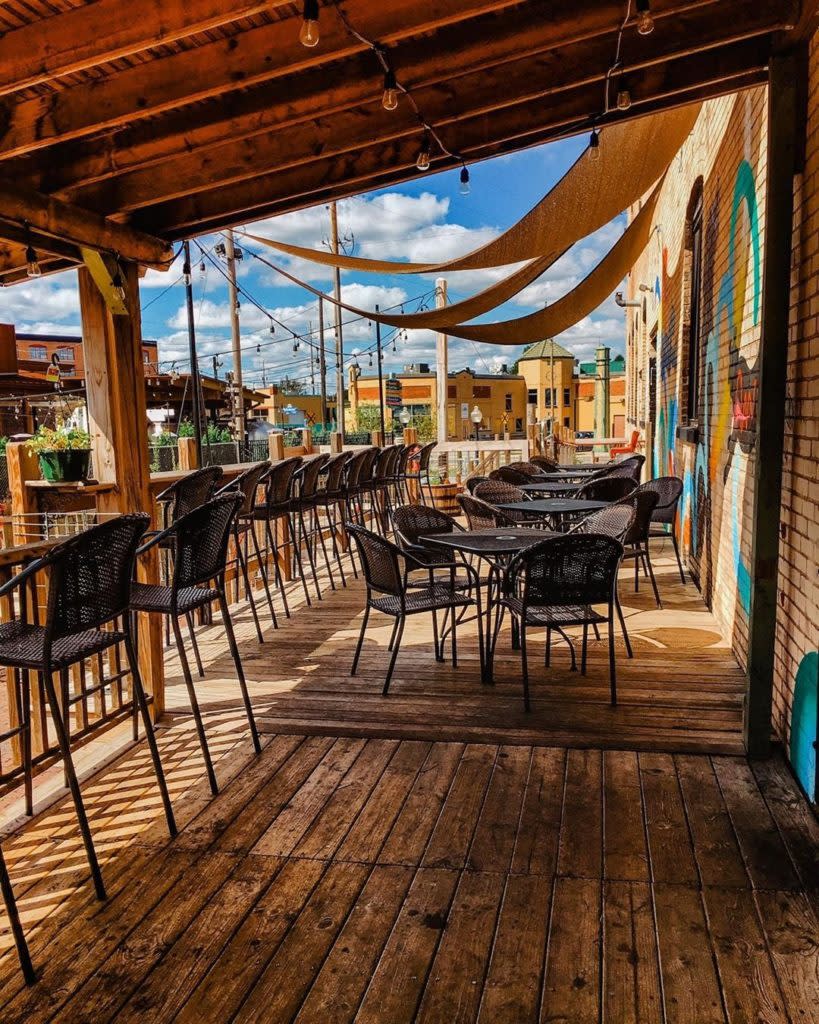 Local favorite decks and patios have plenty to offer such as glorious views of historic buildings and the Kalamazoo River. Whether you want to enjoy the summer sunshine or just breathe the fresh air, this list of restaurants that offer decks and patios for your next night out.
Looking for the ultimate 'deck hop' spot in the city? Bates Alley is calling your name – located right Downtown Kalamazoo. The restaurants that make up this prime deck hopping spot offer a variety of cuisine and craft cocktails. Here are the restaurants that are located in Bates Alley.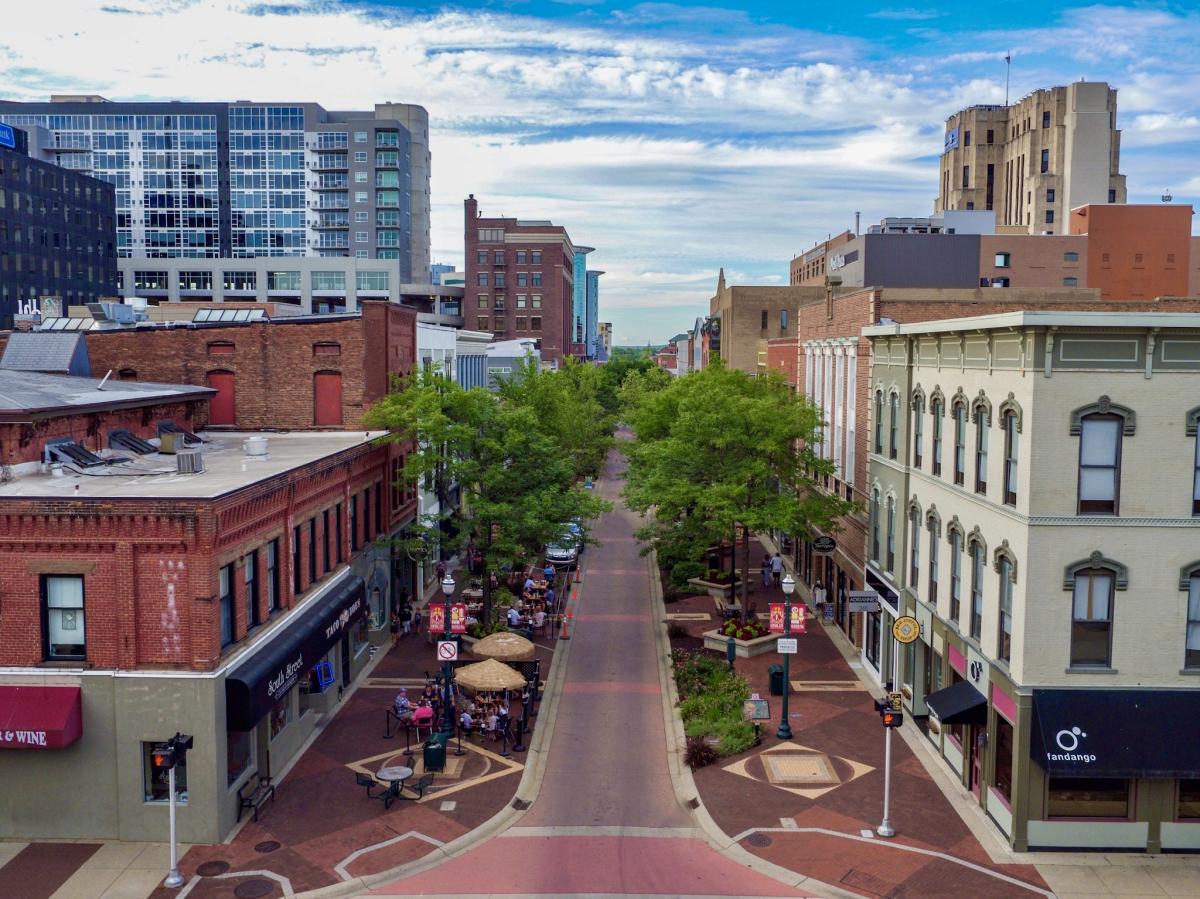 From now until August 14th, Downtown Kalamazoo will be closing down the street along the Kalamazoo Mall to expand retail and restaurant spaces. Every Friday at noon until Saturday at 10 a.m. the streets will be used for foot-traffic only from Michigan Avenue to South Street. Allowing downtown businesses to use the spaces directly in front of their store as an outdoor market. More downtown deck and patios to check out.
Downtown Kalamazoo is not the only place that offers great cuisine and crafty cocktails. Outside of the downtown in the surrounding cities there is an abundance of restaurants that allow you to enjoy the fresh area and unique food. Here are a few places to check out;
GET ACTIVE WITH DISC GOLFING
Disc golfing is increasingly becoming more popular. Kalamazoo is home to a large disc golfing community. The city offers a variety of courses that welcome a range of player-levels – so beginners are welcome! Some of these courses are known as the best courses in Michigan. So, what better way to social distance then spend time in nature while playing your favorite sport?
Oshtemo Township Park
Vicksburg Recreation Area
Orangeville Disc Golf Course (Shelbyville)
Meyer Broadway Park (Three Rivers)
Irving Park (Battle Creek)
Leila Arboretum (Battle Creek)
Dexter Lake Church (Battle Creek)
COME SEE YOUR FAVORITE ANIMALS
What's more relaxing than going to see your favorite animals? Kalamazoo is home to plenty of places that animals call home. You and your family will love visiting these places to check out your favorite animals and even some more unique ones.
Discover Kalamazoo Nature Center's indoor and outdoor habitats housing a variety of animals. Equip with miles of trails through woods and wetlands offering relaxing views and fresh. The nature center is open year-round and even has a three-story tropical rainforest.
Fan of reptiles? Critchlow Alligator Sanctuary is home to hundreds of rescued reptiles such as alligators, lizards and snakes. What's better than seeing these unique reptiles? Touching some of them! This alligator sanctuary even offers hands-on experience with some of the rescues!
Kellogg Bird Sanctuary is home to native birds like waterfowl, game birds, raptors, etc. There are even walkable trails around Wintergreen Lake
Binder Park Zoo offers a unique up-and-close experience with the animals that call this zoo home. You can even feed giraffes at the Twiga Deck. Get up close and person with lions and even see Animal Play Days and Training days by zookeepers!
Life can be stressful sometimes – so we all need a chance for a getaway to reconnect and rejuvenate. Rest assured, Kalamazoo is practicing safety precautions and social distancing all while offering a variety of ways to enjoy all the city has to offer. From outdoor recreation activities to bike friendly trails – Kalamazoo is the perfect getaway for your next chance to rejuvenate.