Along the 275-mile stretch of footpath that make up the Lake-to-Lake trail, explore over 75 towns that it runs through. The must-see place to discover off the trail – Kalamazoo. Your one-stop-shop to eat, drink, and explore on the trail. The trail is divided into three regions, the Western Region, Central Region, and Eastern Region.
Located in the Western Region or Route #1 – the Kal-Haven Trail and Kalamazoo River Valley (KRV) Trail collectively make up 60 miles of the Lake-to-Lake trail. Both of these trails run directly through Kalamazoo. What was once the Kalamazoo and South Haven Railroad track is now the Kal-Haven Trail. The trail stretches 33.5 miles and connects Kalamazoo to South Haven (which is where its name stems from!) Use the trail for hiking, biking, jogging, cross-country skiing or snowmobiling. If you need help planning the perfect Kal-Haven Trail experience, check out this informative trail itinerary.   
On your next exploration on the Kalamazoo River Valley Trail, from Comstock, through Lakewood to Downtown Kalamazoo, enjoy scenic views of the Kalamazoo River. The Kalamazoo River Valley Trail is 23-miles and connects to several county parks. This trail can be used for hiked, biking, and cross-country skiing. There is just as much fun to be had off the trail than there is on.
Adventures ON the Trail
Bike, Hike, Ski
Both trails are the perfect place to enjoy nature and get some physical activity. The crushed-limestone rail-trail is the optimal terrain to pack up your Mountain Bike to cruise the trails. For all experience levels, these trails are welcome to all. Kalamazoo offers a variety of bike rentals to take the stress out of having the bring your own or purchase one. PEDAL and Kzoo Swift offer no-hassle bike rentals. Or if you prefer to trek the trails a different way, trek the trails on foot or ski's! There are plenty of ways to experience the Kal-Haven Trails and the KRV trails.
Stay
 

 

 

View this post on Instagram

 

 
Once your expedition from Kalamazoo to South Haven, get ready to rest and unwind from a busy day(s) on the trail, camp under the stars or glamp in a cabin at the Kal-Haven Outpost. The Outpost offers private showers, family & couple's cabins, RV and camp sites. This campsite features many amenities such as using farm-fresh eggs, campfire starters, Bobs Processing and Palazzolo's frozen treats! The Outpost is the perfect place to stop on your next journey.
If you're looking for a spot to stay in southwest Michigan's favorite town, The Stuart Ave Bed and Breakfast is the place for you. This charming bed and breakfast is loaded with amenities and history. For KRV and Kal-Haven trail adventurers, the Stuart Ave B&B offers a stay package with a shuttle. In the morning, enjoy a much-needed protein-packed breakfast to fuel your Journey.
Adventures OFF the Trail
Eat & Drink
Kalamazoo is the 'must-see' place to stop off on the Kalamazoo River Valley Trail. Downtown and the surrounding areas of Kalamazoo offer a variety of spectacular restaurants. Downtown Kalamazoo has nothing short of remarkable deck and patio eateries.
If it's one thing Kalamazoo is known for, it's craft beer. After a day out on the trails, be sure to savor a refreshing craft beer at one of the many breweries in the area. Or, if you prefer something a bit stronger, Kalamazoo provides an assortment of Distilleries or Wineries.
Discover
 

 

 

View this post on Instagram

 

 
The Kalamazoo Nature Center is the unmissable spot off the trail and voted the #1 nature center in the nation. Open year-round, this nature preserve features both indoor and outdoor activities perfect for the whole family. The nature center stretches 1,100 miles with 11-miles of pristine nature reserves perfect for hiking and cross-country skiing.
Wander around the local Farmers Markets to browse fresh and locally grown produce, flowers, plants, and much more.  Kalamazoo's Original Farmers Market features over 100 businesses every week. However, there are plenty of Farmers Markets in the area. Be sure to check out them all!
Stop into the city of Kalamazoo's Park & Rec area to catch a Growler's Baseball game! The Growler's are Kalamazoo's beloved home team. Located right in Mayors Riverfront Park. A Growler's game is a must-see when traveling to or through Kalamazoo. Check out the Growler's upcoming schedule or get your tickets here.
County Parks
The fun doesn't stop off the trail. There are heaps of county parks located near both trails. The Kal-Haven and Kalamazoo River Valley Trails connect to some of southwest Michigan's most pristine county parks. Making up for hundreds of acres off of both trails, these county parks offer a variety of fun to be had for the whole family!
River Oaks County Park is located on the shore of Morrow Lake. The park gets its name for the 100+ acres of old Oak Tree's on the 330 acres of the park.  Enjoy a splash pad, dog park, Southwest Michigan's most premier soccer fields, and much more. Your furry friend will also love the dog park. This county park has direct access to the Kalamazoo River Valley Trail.
 

 

 

View this post on Instagram

 

 
Markin Glen County Park covers 160 acres of what was once Morris Markin, founder of Checker Motors Corporation of Kalamazoo's estate. This park offers modern camping sites, fishing and swimming lakes, beaches, playgrounds and tennis & volleyball courts. The park also has direct access to the Kalamazoo River Valley Trail.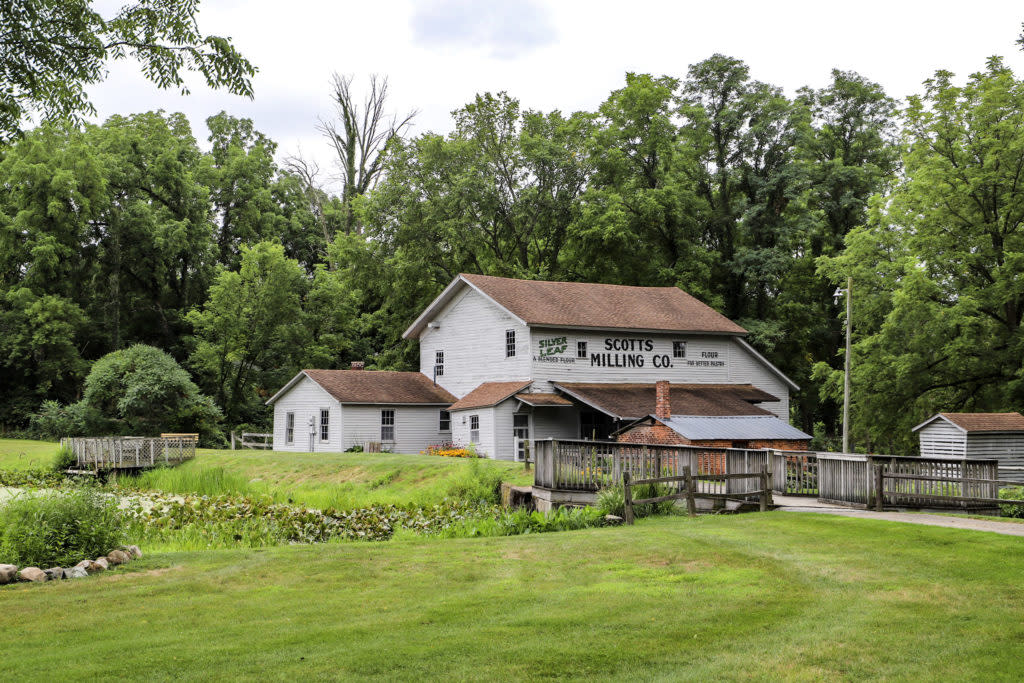 Take a step back in time -- Scotts Mill County Park is the place to experience 110 acres of  a classic piece of agricultural and natural history. This park is perfect for weddings or group picnics/outings. Alternately, the Scotts Mill County Park is an ideal place to relax off the trail after a day of biking or hiking. 
Three Lakes and unrivaled wetlands make up the 276 acres of Cold Brook County Park. Since the county park is primarily water which means there is no shortage of water activities. Blue, Long and Portage Lakes which offer plenty of swimming beaches, and fishing opportunities.
On the shores of Gourdneck and Hogsett Lakes lies Prairie View County Park. The county park is 210 acres of natural habitats and swimming beaches. You can even rent a beach house right on the water. Enjoy the great outdoors while playing on the soccer fields or out on the water catching some fish!
Stretching mile and mile, through different towns, a variety of scenery – there are plenty of ways to experience the new Lake-to-Lake trail. Take in all the sites and scene to enjoy both on and off the trials. Forgot something? Kalamazoo has a collection of local retailers. Located down, The Kalamazoo Mall has a range of stores offering something for everyone and every need. Discover Kalamazoo offers many ways to relax and rejuvenate. Check out more to Play, Stay, Eat and Drink to experience Kalamazoo.